My oldest nephew is getting married this September, and all three of my kdis are in the wedding.  This means they need to be properly decked out as a ring bearer and flower girls- including footwear.  I'm particular about the shoes my kids wear, and really try to keep them in quality leather with a nice flexible sole as long as possible when they are toddlers.  I have heard such good things about ShooShoos USA for so long – known for their style, construction and smiley faced flexible soles- that they were one of the first places I looked to when starting to search for shoes for Baby B to wear at the wedding.  ShooShoos USA offers shoes for boys and girls up to age 2 1/2.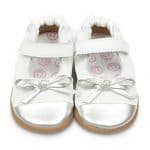 I found the most darling little White/Silver Ballet Smiley shoes and knew I had to have them for my girl!  I love that there are no laces for her to trip over or untie, and the elastic around the back of the shoe allows for a more snug fit.  They just hug her little ankle and allow her little feet to move as they want to.
This wedding is an outdoor one and I want to be sure she's not going to slip and slide out of her little shoes at any point in time,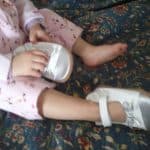 and still be comfortable- and the shoes themeslves are simply adorable.   I have some photos of her in the shoes, although they are a bit big, I wanted to be sure they will still fit come late September when Joey & Kelly tie the knot!!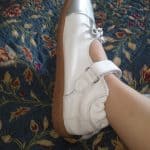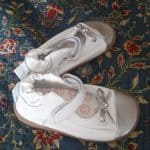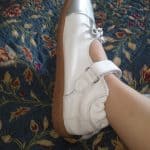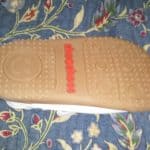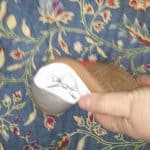 You can buy ShooShoos on their website.  Be sure to follow them on Facebook to stay up to date on deals and bargains!!
I received a sample of this product to facilitate my review.  Opinions expressed within are my own.
0