Getting the kids off to school, dressed, and with a healthy lunch is no small feat. Give them fun and tasty lunches but make it easy on yourself by using a few cute, key supplies to think out of the box. First of all my kids love Pepperidge Farm Goldfish Crackers ®  and in these easy and convenient snack sized bags they make putting together lunch a breeze! Add in a few more key items to create fun and simple lunches to rock the mom thing this school year and your kids will sing your praises!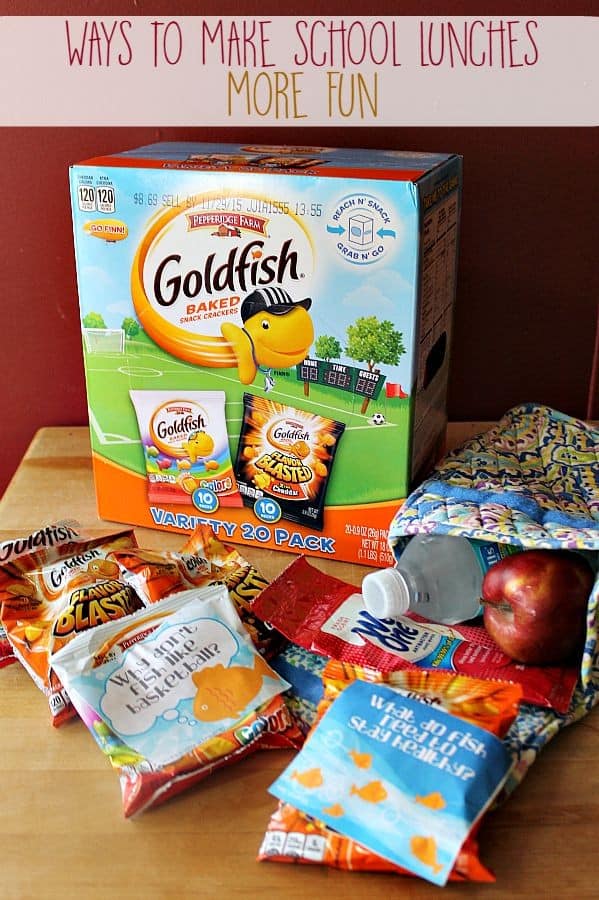 Simple Ways to Make Lunches Fun
What you need:
Wet Ones® Singles-a necessity in every kid's school lunch, cleaning hands and killing 99.9% of germs
Pepperidge Farm Goldfish Crackers
Cookie Cutters
Skewers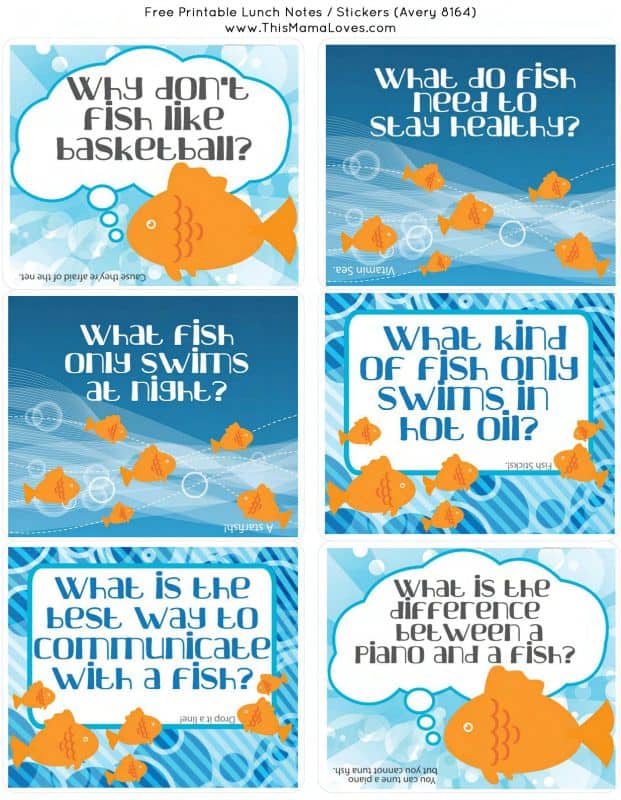 Printable Fish joke labels (click to download or click the labels image above to download)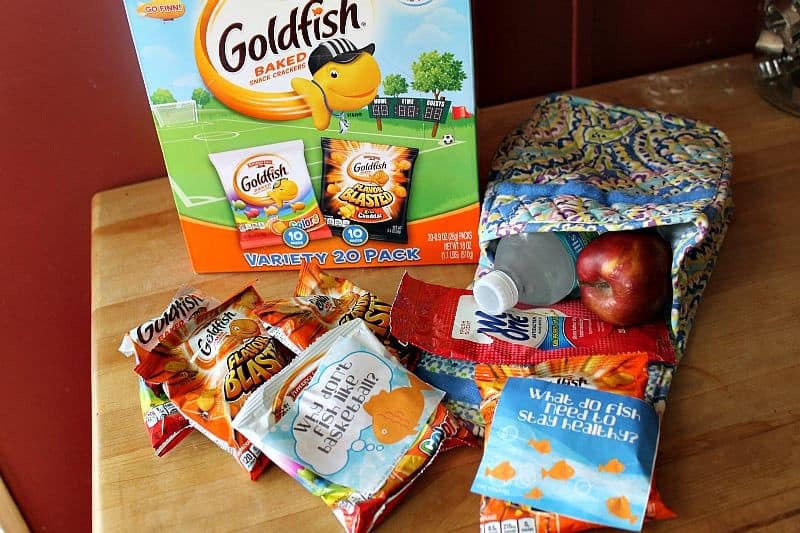 Pepperidge Farm Goldfish Crackers-  Whether you buy the big bulk box, smaller bags, or this convenient grab N' Go box with portioned prepackaged bags they are a great way to streamline lunch prep as well as after school snacking. We grabbed ours from our local Walmart store- can't beat the pricing and they have every flavor you can think of! Plus, they have the bags, other snack supplies, cookie cutters and Wet Ones right there.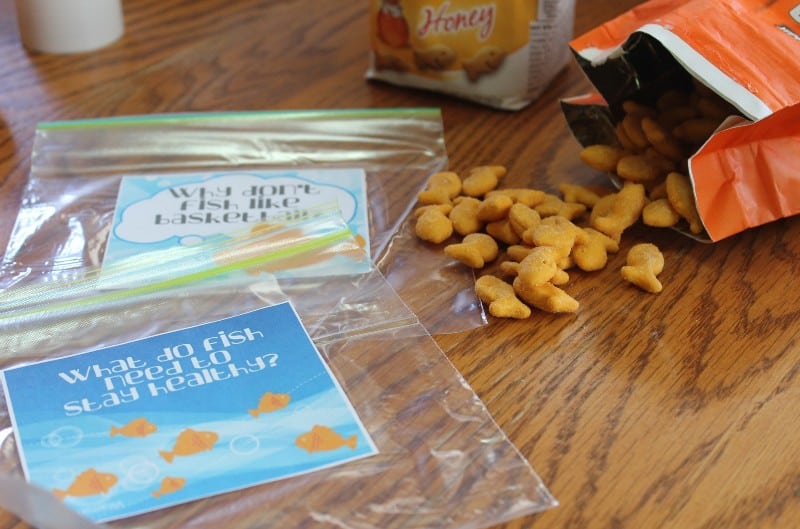 Cookie Cutters-First, I must admit I have an embarrassing collection of cookie cutters. They are one of the easiest ways to dress up your child's lunch with little effort- from animal shapes to letters and numbers you can cut out sandwiches, pancakes, tortillas, and more to create any theme you can imagine.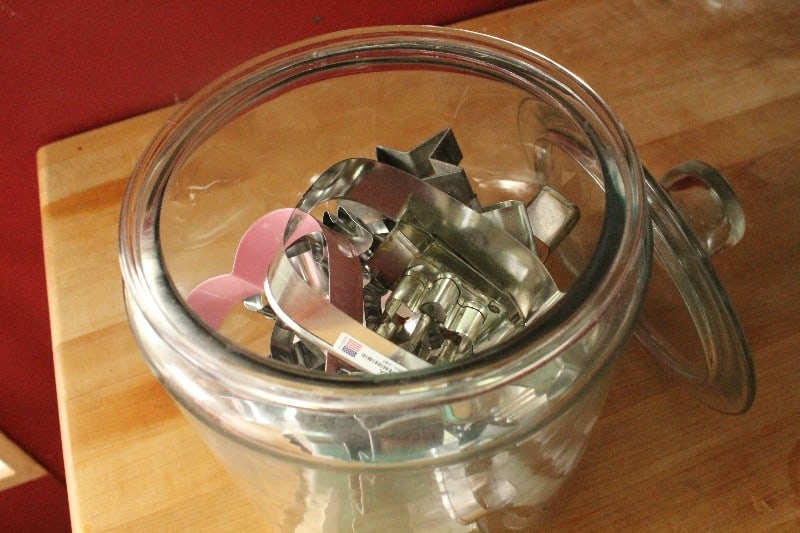 This big glass jar is just a small portion of my collection!
Skewers-Anything on a stick gets you mega mom points. Keep skewers on hand to turn fruit into fruit kabobs, cut sandwiches into bite sized pieces and stack on for fun nibbles, alternate fresh veggies on a stick add a dip and watch how fast they disappear! You can pick wooden skewers in various sizes, or even fun plastic ones like swords. Check out these fun food on a stick ideas!
Fun Printables– Print out the provided printable on AVERY 8164 Labels and stick them right on the Goldfish packs for fun jokes that will give your kids a laugh and let them know you are thinking about them.
Wet Ones– Make sure those little hands get clean by including a pack of Wet Ones in their lunchbox every day. These also come in handy for spills that occur in the lunchbox.  I hate when those things get smelly inside and these will encourage quick clean ups to avoid that!
What is your favorite tip for making lunches not only fun but easy too? Share it with us!
Be sure to head over to  www.wishihadawetones.com for a chance to win a year of Wet Ones for your home AND your child's classroom, plus $1,000 cash!
This is a sponsored conversation written by me on behalf of Wet Ones® + Pepperidge Farm® . The opinions and text are all mine.