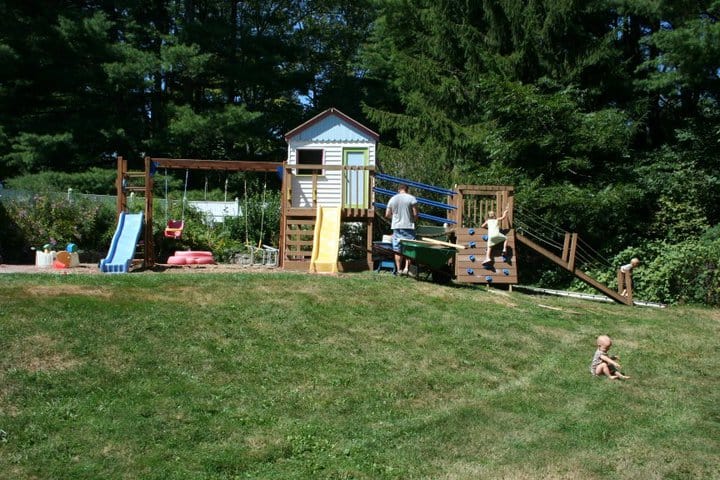 We affectionately call our backyard "playtown" because, well, we have a lot of cool stuff to play on.  I love having things that encourage kids to play outside! We've lost 2 main attractions with storms in the past few years- our 2 very old apple trees that had rope swings and a tire swing, but we also have my brother Tom's self-designed playset structure including a playhouse with pergo flooring…which we melded with a wood swingset and now have a monstrosity that can easily fit 10 kids to play at once.  But we felt like something was kind of missing.  Or rather, I did. My kids like to climb, and climb, and climb, but they never seem to want to actually climb things that are made for them to climb on.  You know, like scary unstable things. That's what they want to climb.  Or climb OVER the monkey bars, and then slip off.  (Only twice, and knock wood, no major injuries yet).
The first time I saw the Skyward Summit from Step 2 in a catalog I knew I wanted it.  The kids are getting bigger and we've done away with the littlest kid things, so we need some more cool big kid stuff. This box arrived a while ago, but thanks to some freak storms, family things going on, and more freak storms, our shipping box was  frozen into place in a not easy to access part of our yard.  This weekend, things aligned and we were able to set it up.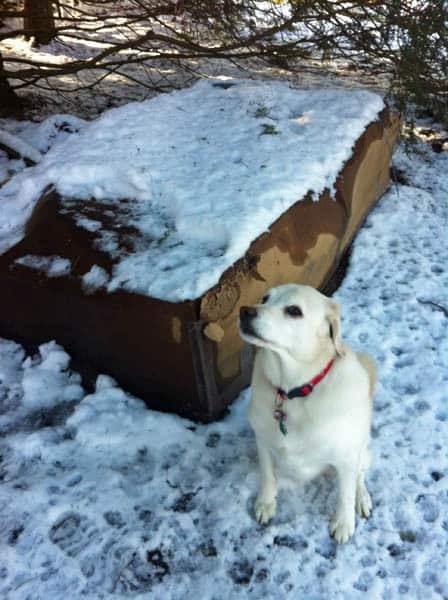 My 7 1/2 year old was very, very excited to be an official helper. At least she was for 4 screws. Then she went to build a snow fort.  I was on my own.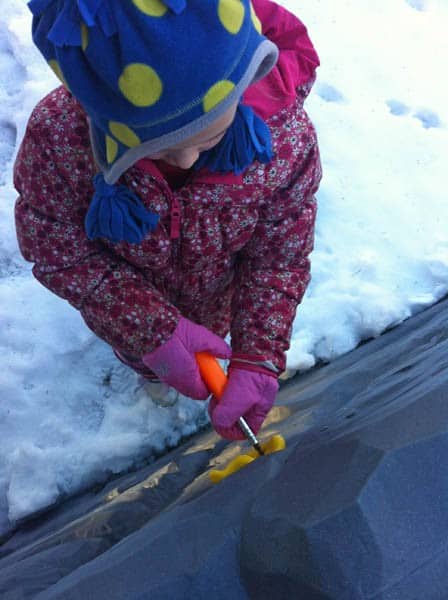 I love Step 2 products- always high quality, top notch construction.  So I knew this would be a great piece to add to our playtown.  What kid wouldn't want a rock/climbing structure in their yard?    This one has over 100 feet of climbing space including 2 cargo nets and rock walls.  There's also a flag for the top that's just cool and you can reach it by climbing the outside of the structure or by popping your head through the hole in the center of the "roof" of the summit.  (Yes there is a hole there and yes it is big enough that your child's head won't get stuck in it).
The Skyward Summit is made for kids ages 4-8.  My little one is just shy of 3 1/2 but she scrambled right up with no issues.  (Her dad got really nervous, but I knew she'd be fine. She's part monkey!)  The mesh "platform" in the center of the structure is going to be used as a fort for many, many hours in the future, I can tell already.  The kids loved sitting up there taunting their dad until he threw snowballs at them….(Please note the platform is not meant to hold more than one child at a time, we really just wanted to give you an idea of the space of it.  See safety notes below from manufacturer)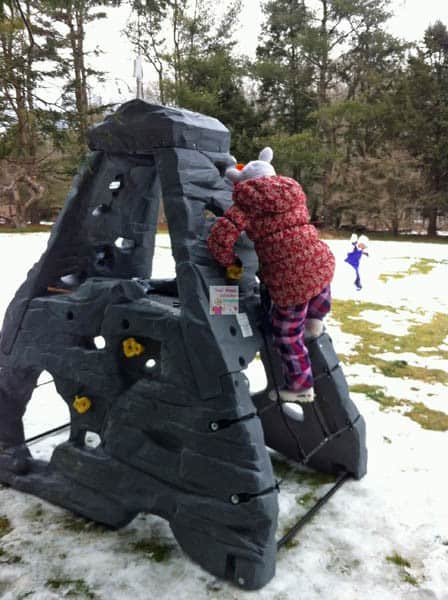 Your little adventurer can explore and discover from the peak of the summit. Its authentic design reaching 80″ (2.03 m) tall makes this climber look like a real rock climbing wall giving your child over 100 square feet (9.29 square meters) of outer climbing area!

Made in USA of US and imported parts. Nets, grips and flag made in China.

Four unique climbing surfaces create varying challenges
Features 2 climbing cargo nets, 1 floor net and 9 grips
Narrow top offers a challenging climb for children
A hole at the top of the peak allows children to peak out
Mounting hardware included and adult assembly is required
Limit 4 children – Maximum weight limit 320 lbs. (145.1 Kg)
Limit 1 child on platform – maximum weight 80 lbs. (36.3 Kg)
Intended for family and domestic use only
Adult Supervision Recommended
**You may notice in my photos that this is NOT secured to the ground.  There are stakes included to secure the summit into the ground, but we're not 100% certain where this will be "living" in the yard so we didn't secure it.  They will be added this coming weekend to ensure the kids are safe.  As with most play areas, make sure there's at least 6 feet clearance (and preferably soft material) surrounding your playset structures- mulch, rubber mulch, gravel- let's keep those little ones safe!
I really want to be all "this was not hard to put together" and "it didn't take too long" but I have to fess up.  I'm pretty good with toy assembly and this  set had me frustrated and using colorful language frequently.  It took several hours, mostly because the instructions weren't 100% clear.  I'd still definitely recommend this, but I think there needs to be a lot of patience, probably some beers (if you imbibe) and try to go over the instructions a few times before you start.  The way the nuts, bolts and screws were packaged was not in a logical way and there really, really needs to be some narrative in the directions.  The cargo nets are very very hard (more colorful language) to get into place without someone really strong helping- thankfully my husband was able to come in and do it but I thought I had the wrong sized netting.  Once you get this thing assembled, you'll be happy, as will the kids. You'll deserve a gold star (trust me, I told my kids and my husband all day today that I do) for finishing this.
If you have little climbers, I definitely think you should check out the Skyward Summit.  Your kids will enjoy it for hours on end for many years!
I received a sample of this product to facilitate my review.  Opinions are my own.