This post brought to you by Panda Express. The content and opinions expressed below are that of this mama loves.
We have lived in eastern Connecticut for almost 10 years now and have yet to find a Chinese restaurant that has decent Chinese spare ribs. 
There was a place near where we lived in New Hampshire that had amazing ones, and I know the Chinese place in my town growing up was known for theirs, but both have since closed so even if we make a trip, we can't have them.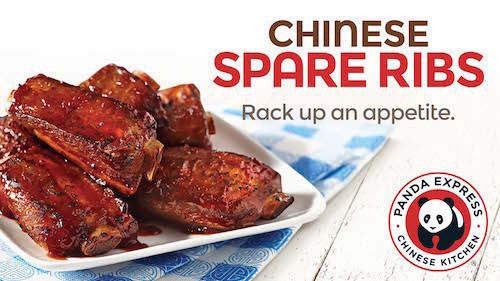 I'm so excited to find out that we have a family-owned Panda Express just about 20 minutes away that is now

 launching a new premium rib (adding rib) entree: Chinese Spare ribs

. I'm going with a girlfriend for lunch next week and cannot wait. Some may look at ribs as a 'guy' food, but I disagree. I feel like they are for everyone.  These Chinese Spare Ribs are slow cooked for 5 hrs with sesame oil, mirin, red chili bean paste, garlic and red peppers, creating their one-of-a-kind flavor. Sweet, spicy, and savory, these fall-off-the-bone ribs bring together the best parts of Chinese Char Siu and classic American barbecue. It's literally an east meets west kind of thing. These delicious Chinese Spare Ribs are available only for a limited time at 

Panda Express 

locations. A bonus? You can 

Order Online!
Find out more about Panda Express dishes by visiting their Facebook, Twitter, and Instagram!
Twitter Handle: @PandaExpress
Instagram Handle: @officialpandaexpress