There are surprisingly few products on the market to help support a newborns head in the carseat.  The selection is limited and the color choices are blah!  I find that many of the inserts work great while the baby is awake, but fail to keep the child's head upright when they are sleeping.  When I saw the SnugZee online, I was instantly intruiged.
What is a SnugZee?
"SnugZee is the only effective remedy for baby head and neck instability available
on the market to date, that won't compromise the safety of the car seat."
Removable pillow support cushions:
4″ long x 3″ wide x 2.25″ tallStrap cover pads: 3″ long x 1.75″ wide
(when in use)
"A dual-purpose device, pillow support cushions can be removed and strap cover pads left in place prevent harness straps from irritating baby's delicate skin.2-in-1 design is easy to affix and remove pillows support cushions as necessary. No re-threading of car seat harness straps required."
A head support system is so crucial as newborns are unable to independently hold their necks upright.  As demonstrated in the picture above, a typical u shaped head support does not prevent the baby's head from flopping forward and sideways.  Not only is this uncomfortable for young baby's, but it can be dangerous as it compromises the ability to breathe properly.  The standard U shaped support can also impede the overall effectiveness of the harness system, as it is placed between the baby and car seat.
How To Use (Important Directions From SnugZee)
SnugZees should be affixed to the car seat harness straps prior to placing your child in the seat. Once your SnugZee has been securely fastened via Velcro enclosure, it is not necessary to remove and re-attach before every use.
Open your SnugZee by unhooking the Velcro enclosure that is located on the under side of the strap cover pad.
With the pillow support cushion guided into place on the strap cover pad, wrap the strap cover pad around the car seat harness strap. Securely fasten closed via Velcro enclosure and slide the strap cover pad up high onto the car seat harness straps so that the SnugZee touches the back rest portion of the car seat.
SnugZees should sit high up on top of your child's shoulders when he/she is restrained in his/her car seat.
SnugZees should never slide down your child's safety belt straps. If they do, please make sure your child's car seat straps are properly tightened. You should not be able to pinch or grab any amount of strap in between your fingers. Your fingers will slip and be unable to pinch or grab any of the strap if the harness is properly tightened.
 My Impressions:
This product is recommend from birth to 12 months.  Since I don't have a little baby at my house yet, I tried this product out on a friend's baby.  It was suprisingly easy to attach the head support cushions to the straps of the harness.  Simply affix the cushions using the Velcro closures, making sure that they are located at the top of the straps.  It was easy to properly buckle the baby into the seat, ensuring that the cushions were located in the proper position, up high on the shoulders.  You can see in the top picture that this baby is very young (3 weeks) and has no head control, yet the cushions properly held her head and neck in place.  They actually worked really well and were a breeze to install.  This baby was previously using the U shaped head support and you really could see a big difference in the amount of support that was provided.  Once the cushions are in place, there is no need to remove them again unless you are laundering them.  Just attach one time and you are set.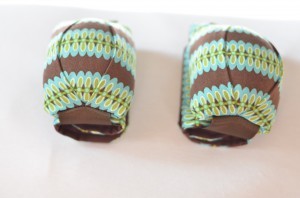 These straps are also easily removed, which is a great feature for washing and cleaning.  FYI, the Snugzee is machine washable on cold, dry on low heat.  The quality of the workmanship on this product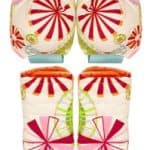 is superb, which is easy to see from my close up photo on the right.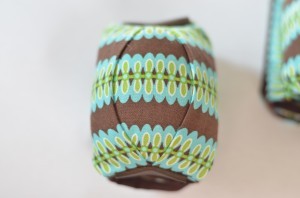 In addition, the velcro closure were sewn securely and will last through many many washes. 
Not only was this product easy to use and effective, but the fabric choices are stunning.  SnugZee offers many different pattern choices to coordinate with any car seat fabric.  My personal favorite is this pink prism pattern.  Gorgeous!  For a retail price of $24 you can't go wrong!
 One very lucky reader will win their choice of Designer Fabric Snugzee.
Mandatory Entry:  Leave a comment with your name and a valid email address.  If you don't give me a valid email I can't reach you if you've won!
Extra Entries:
1. Follow SnugZee on Facebook
2.  Visit SnugZee and tell me your favorite pattern.
3. Follow me on GFC, Facebook, Twitter or RSS/Email Subscription (+1 each)
4. Share this giveaway on any social networking site:: #win a #Snugzee @Snugzeebaby #baby head/neck support from @mamatomjr @jendpt http://wp.me/p1qA6G-1Xx  (can be done 2x day at least 1hour apart)
This giveaway will end on July 7, 2011 at midnight, EST. US only. Winner to be chosen randomly. Winner has 48 hours to respond to my email or a new winner will be chosen.
I received a sample of this product to facilitate my review. All opinions expressed
 [ad#glam between posts]