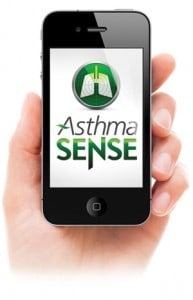 Next week, on July 26th, I will be co-hosting a twitter party with SoundAsthma in support of their AsthmaSense app, designed to help you keep track of your asthma symptoms, medications, emergency contacts, etc. all in one place.  For those who live with asthma or have loved ones who do, this has got to be a peace of mind that you can keep track of everything in one place- and how great is it that the information is portable!?
One Screen, One Stop to Track
Asthma Symptoms

AsthmaSense is a take-anywhere journal that reminds you to take medication or test your breathing. It allows you to record asthma symptoms, medication use and peak flow measurements from a single screen. You can also access your contact information and automatically make a call in the event of an asthma attack or medical emergency.

AsthmaSense is available at the following app stores: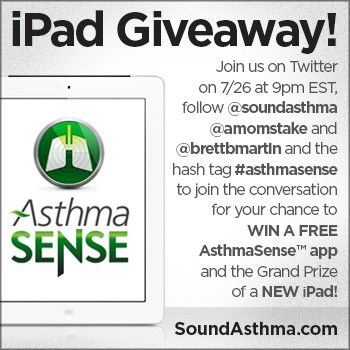 We will be giving away  several copies of the AsthmaSense app and….  NEW iPad 3 preloaded with the AsthmaSense app as the grand prize to one super lucky winner at the end of the party!
To participate in the Twitter Party, just follow along with the conversation and tweet with us using the hashtag #asthmasense. Be sure you are following@SoundAsthma, @Amomstake, and @BrettbMartin so you don't miss out on the party tweets! The party starts at 9pm EST on Thursday July 26th!
Visit this TweetGrid for the party!!  Don't forget to RSVP below! 



I will be compensated to thank me for taking the time to co-host this party.  Opinions are my own.
0