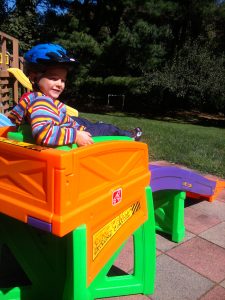 I love playing outside with the kids.  Being outside just puts us all in a good mood, the fresh air is great for us, and moving around getting energy out is a wonderful thing.  I like to keep options for kids to stay happily busy outside- safe options in particular.  Step2 sent us their Extreme Coaster for outdoor fun and let me tell you, this thing R-O-C-K-S.  We love it.
The assembly took me about an hour, hour and 15 minutes, which probably would have taken far less but I had 2 helpers who are 2 and 4 and one of them kept walking off with my tools to "fix" his tractor.  As I was putting this together I kept thinking, ok, this wouldn't even be bad to disassemble to store for the wintertime….which, as anyone who has to store things for a season or 2 knows, is kind of important.
The top of the coaster has sides and a back for safety- we still opt for any kids who ride our coaster to wear a helmet.  Safety first, that's a Bargains family motto.  Once your head is protected, you are welcome to use the coaster, and then again, again and again some more.  I've not had anyone just go down the coaster one time.  My kids have it at the top of a small "hill" in the yard (ok, ok, I put it there) to maximize distance- they get pretty far and the squeals and giggles almost every time from the kids just make my heart so happy.  I would try it myself except that the  way the cart is made, I'm not sure physically how an adult could sit in it.  (Which is probably intentional).
This would make a VERY fun holiday gift although I'm not sure it would fit UNDER the tree!?  Its on sale right now for $239.99 with free shipping!!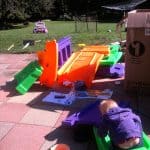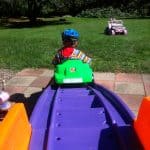 What are YOUR favorite toys to play with outside?
Update 2/11/12 I have to tell you we are STILL loving this Extreme Coaster from Step2. The kids use it for a fort, they use it for "base" playing tag, it's been a dance stage, and we've used our sleds on it when we've had snow.  So much fun.  Snow much fun?
I received a sample of this product to facilitate my review.  Opinions are my own.
0