We do a lot of gardening in our family- we have a large vegetable garden, plus separate beds for pumpkins, rhubarb, asparagus, blueberries, raspberries and strawberries.  This can make for a lot of watering needs, especially when you add in all of our other planting areas.  Having a larger sized yard makes it kind of hard to get hoses that will reach the span of the yard, so often times, we are out watering by hand- and our kids love helping too, so they frequently water along with us.  Last year, my husband made a rain barrel from an old container, but it was very leaky and not meant to be used for multiple years.
This  year, we turned to Step2 so we could try their 40 gallon  Rain Barrel-I was immediately drawn to the muted color and design of the barrel- while nothing is truly going to stop a barrel from looking like a barrel, the faux-rock appearance certainly does blend far better with the outdoors than the bright blue barrel we had rigged up last year (and cannot find a photo of.  It worked but it was not pretty at all).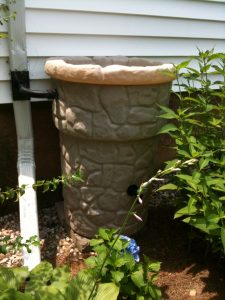 Natural stone look compliments landscaping. Made in USA of US and imported parts. Accessories made in China.

Secure lid provides protection from mosquitoes and can be used as a planter
Spigot accommodates a standard garden hose
Comes with a diverter that attaches to your down spout
Included diverter prevents barrel overflow and directs water back down the downspout
Minimal assembly required
This barrel was so simple to assemble.  15 minutes at most, and that's largely in part to my father in law "helping" me to assemble.  It really was a breeze and I think anyone could handle it solo- even folks who aren't used to assembling things (I've had 7 years experience assembling toys and baby gear, I feel like I could assemble a lot at this point!).  A few pieces to place and secure, and voila! Done, ready to go!  The spigot accomodates any garden hose of standard size, so I didn't have to think or worry about connector pieces.


I did have to worry about where to put this- we have an equal need and spot for one in both our front and backyard.  For now, the back won, but I think I'll be ordering a second rain barrel for the front. I love the look, the color and design, and having the ability to capture rain water to use to water plants instead of using our well water makes me one happy mama (I'd be over the moon if we were on city water and I could collect rain water that I didn't have to pay for!)
I love this rain barrel. Everything about it- although we have not been able to use the top for a planter- it just collects water and mosquitos breed on top.  We found a super simple solution and drained a few tiny holes in the lid, so that water can drip down into the barrel.  The kids LOVE having access to get water for the sandbox or whatever they are doing (I think yesterday they were making a pool for the yard fairies to swim in) and to help us water.  I love not having to turn the hose on.
The diverter feature on this barrel means you don't have to worry about the barrel overflowing- which would happen frequently with the weather we're having here in CT this year- days on end of heavy rain…then nothing for weeks…but the diverter means no risk of overflow.
I want to take a moment to talk about the lid.  I know my husband and I get concerned about having things like this on our property- can the kids open it?  Could the unthinkable possibly happen?  But honestly, this lid fits on TIGHTLY.  It would take a little kid a serious amount of force to get the lid off- so that reassures us.  We don't leave the kids unattended much if at all but there are always those times that someone needs an ice pack…or to use the bathroom…and the kids are out there.  I like the peace of mind knowing the kids aren't going to be able to open a 40 gallon barrel full of water!
The Step2 Rain Barrel retails for about $89.99 and ships for $4.99.  It comes in 2 boxes- the lid ships separately.  The kids made the box from the barrel into a puppet theater.
I was provided a sample of the rain barrel as part of my Step2 Test Drive Mom Ambassadorship.  Opinions are my own.