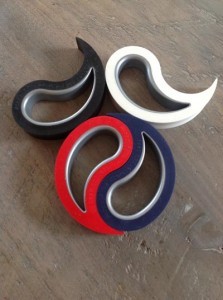 Stoppy The Ultimate Door Stop is not just functional it is adorable.  Gone are the days of the boring brown door wedge.  Stoppy keeps your doors or windows open with style.  Stoppy is made from a safe, non-toxic material that works on carpet, tile, stone, wood, linoleum, and more. You can also use it outside to hold patio doors open. If it gets dirty, simply clean it with water and it'll work like new again.
The simplest things can make me happy.  When my package of Stoppy door stops arrived I got straight to seeing how I could use them.  But, before I could get too far, my son got his hands on them and started to have fun.  Can a door stop be therapeutic?  The answer is yes.  We stacked them, made cool shapes with them and squeezed them.  Stoppy is the perfect shape and size to fit in your hand and it flexes so you can use it like a stress ball.
We received a red, black, blue and white Stoppy and if you go to Under The Roof Decorating, you will see they come in a wide variety of colors.  They have a color for every taste and event.  Stoppy The Ultimate Door Stop is also carried at Target and The Container Store. The site also shows how the Stoppy works and you can order direct from them.
Features & Benefits
• Flexible material fits gaps from 0.25" – 3.5"
• Made of soft rubber that will not damage floors and
bottom of doors
• Made of safe, non-toxic, washable, weatherproof
materials
• Works on all types of surfaces such as carpet, tile,
stone, wood, linoleum, and more
• Perfect for indoor and outdoor use at home, office,
cottage or garage
• Available in a rainbow of colors, there is a Stoppy for everyone's taste and décor.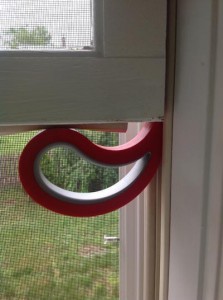 Here is a red Stoppy holding open a window that tends to slip down.  I wish I had these when I lived in some older homes that had really naughty windows.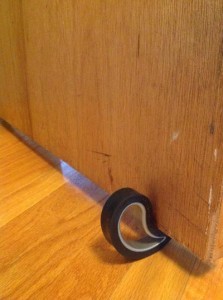 Here are some ideas submitted by Stoppy users:
• Gain peace of mind when traveling by using Stoppy to keep the
hotel door secure. Also useful for avoiding any embarrassing
incidents if you forget to hang the "Do not disturb sign."
• Stoppy keeps your books straight and organized in style.
• Pet friendly – use it to keep doors open to allow your pet(s) to
come and go.
• Perfect for backyard parties – Use a couple of Stoppys to keep
your patio doors open even in the wind.
• Acts as the perfect butler and holds the door open while you
bring groceries into the house or unload the car.
• Prevent active toddlers from getting into rooms they shouldn't.
Jam Stoppy in the bottom of the door of the bathroom,
basement or office.
• Fits perfectly in your hand – use it as a stress squeeze on tough
days.
• Use 2 Stoppys to create the perfect Yin Yang and add instant
Zen to your space.
How to Purchase
Stoppy Door Stops can be purchased online at Under The Roof Decorating.  They also list Target, Home Depot and some other retails on their site.
You can also enter here to win a set of 4 Stoppy Door Stops.
Javascript must be enabled to enter this giveaway. Learn how to activate Javascript by
clicking here.

Loading Entry-Form
I was provided with 4 Stoppys to facilitate my review.  All opinions are my own
0