We have a lot of things with motors in my house.  Well, maybe not my
house, but definitely in the yard.  On our property for sure.  Tractors (oh yes, friends.  TractorS…and he's sold 2).  We also have a boat, snowblower, weed wacker and some chainsaws.  Motors sometimes need a little bit more attention than just some gas added to their tanks.  So I sent Mr. Bargains to the store to get some STP MultiPurpose Motor Treatment.  What follows is his experience.  (Don't get too excited, he's not in photos.  Baby steps here, people!)
If there's one thing my husband has taught me, it's that maintenance is as important or more important than the machine/equipment you purchase.  You can buy the best of the best, but if you don't maintain it, you're throwing your money away.  We Bargains don't throw money away.  So we maintain.  By "we" of course, I mean HE.
I sent Mr. B to Walmart with my cell with a camera, and instructions to document his shopping trip through photos.  He was very pleased to tell me upon his return that there weren't too many people there doing Christmas shopping.  To him, shopping means making a (short, precise) list, driving to one store, entering, purchasing and leaving in 20 minutes or less.  There is no need to browse, nor to peruse a fun display.  Shopping is a necessary evil and he likes to minimize any time spent in a store.  (Can you guess who never takes the kids to a store??).
I'm actually supposed to have my husband write this post.  However, he's a man of few words, and when I asked him to write, he said this:
"I went to the Walmart closest to us and I don't want to go there again.  I wish they had the automotive section closer to the front so I could get in and out quicker.  I'm glad I went because I had to get a few presents for you and my brother.  I should have gotten some air and oil filters for the vehicles for the next oil changes.  I hope this STP MultiPurpose Motor Treatment I got works well because I put it in my truck and I have to commute to work in that truck.   That's it.  Oh and maybe people should think about stuff like this, because cold weather can make your car, snowblower, tractor and stuff run differently, and it might just be the difference between a smooth running machine and a really frustrating morning shoveling for hours.  It's worth a shot, it's inexpensive, easy to find, and even easier to use."  (He mentioned later he was a little disappointed he'd already stored the boat for winter because he'd have added it to that, as well.  He has since purchased 2 more cans of this product).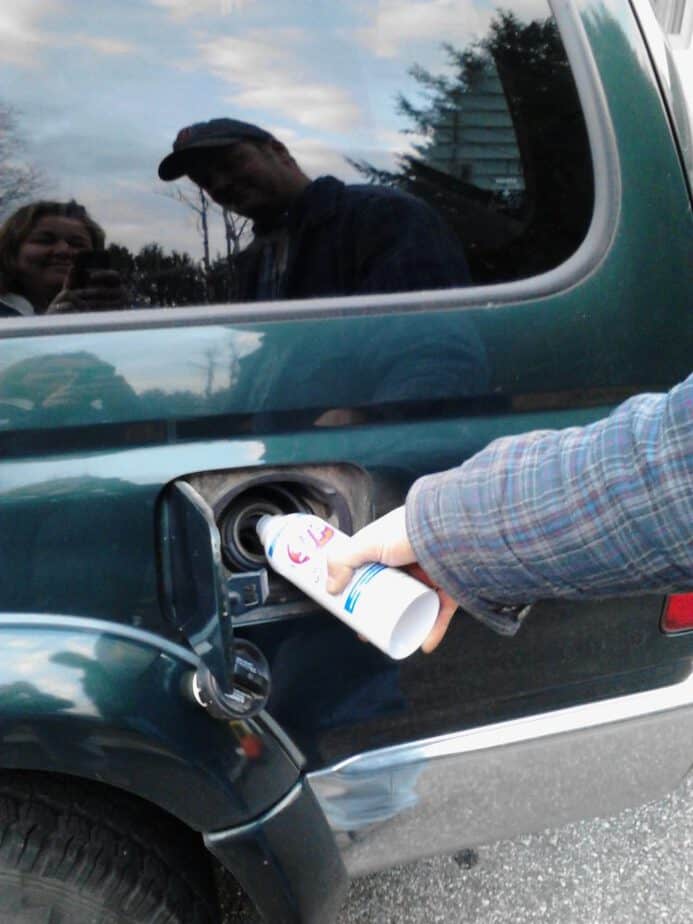 I had no idea how EASY this product would be to use.  I just figured it must have to be mixed into something, and then added somewhere.  You can see his (and some of my) photos on Google Plus and like just below  here?  This is me thinking he's going to pop the hood to add the STP.  Um, no.  Not at all.  You open the container, pour the correct amount into your gas tank, and replace the gas cap.  That's it.  As my grampa (and eleventy billion others) used to say, an ounce of prevention is worth a pound of cure.
I have a question for YOU, my reader friends: Do YOU use an additive like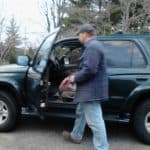 STP MultiPurpose Motor Treatment? What do you use it in?  Do you use it in your boat?  Tractor? Snowblower?  Snow machine?  Cars? Trucks? Vans?  We have all of the aforementioned things that have motors, plus other things- and I feel like I should note here that all are older models- we have a 97 Camry, a 2001 4Runner and an 04 Sienna.  The boat is a 1978?? But my husband is diligent about taking proper care of things and this is a huge contributing factor as to how we are still using all of these reliably!!
Like STP on Facebook for money saving coupons!
This shop has been compensated as part of a social shopper insights study for Collective Bias. #CBias  Opinions are my (our) own.
0