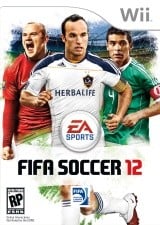 FIFA Soccer 12 for Wii
This past Fall I ventured on to the soccer field as my son's soccer coach.  I had never played the game but figured I could make it fun.  12 cold weeks later the season ended much to my relief.  Coaching a group of 7 year old boys on the soccer field is a challenge.  But, I learned a lot about the sport and bonded with my son.  So, when I saw that FIFA Soccer 12 was being released I knew we had to have it.  The game is a lot of fun and the graphics are great.  It takes a bit to get used to the controls but once my son and I got the hang of it things got very competitive.  Every time I took a shot on goal and missed, the whole house knew about it.  If either of us made a goal we both would cheer.  FIFA Soccer 12 for the Wii has so many different ways to play and you can build your own soccer city.  This game is would be a good gift for the soccer fanatic in your home but everyone will have fun.
About FIFA Soccer 12 for Wii
Step onto the pitch with your favorite soccer players, earn accomplishments and build your very own Soccer City. Now every time you take to the pitch you have the chance to earn in-game awards to grow your personalized Soccer City, compete against neighboring cities and ultimately unlock and collect your Dream Team of superstar players.
Two Ways to Play
Experience traditional 11 versus 11 soccer matches with over 30 officially licensed leagues, 500 teams, and more than 15,000 players to choose from, or hit the streets to compete in 5 versus 5 street matches with the world's top players.
Be a Manager
All-new manager mode enables you to take your favorite club to the top of the league tables –and keep them there! New transfer market to manage your budget as you buy and sell players, upgrade facilities and train your players to help them become the next superstar.
Soccer City
Grow your personalized Soccer City by earning awards throughout the game. Unlock players and powerups, add buildings and infrastructure, and ultimately grow your city to compete for the Intercity Cup. Defeat your neighboring cities in exclusive streets and stadium tournaments to claim the coveted Intercity Cup.
FIFA Soccer 12 for Wii is from EA sports and can be found online and at all major retailers and video game stores.  You can read more about it HERE It is rated E for Everyone and retails for $49.99.  Go grab one for your favorite soccer fan.
A copy of this game was provided to facilitate this review.  Opinions are my own.