Summer is the perfect time for planning children's birthday parties, as the weather is typically nice and kids are in the mood to have some fun. If you are planning a birthday party for a child this summer, you might be wondering how you can make it special and get away from the typical beach party theme. Well the good news is you have many options, and we have included some fun suggestions for you below. Below you will find 10 ideas for planning a successful summer birthday party for kids, so you can enjoy a party that is sure to dazzle all your guests!  Thanks to Hoodsie Cups for sponsoring today's summer birthday party tips post!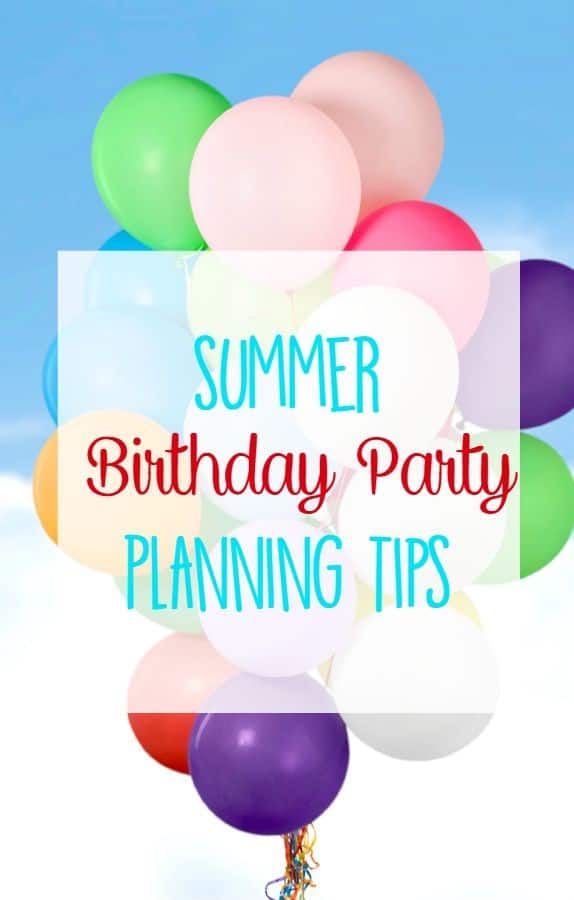 Summer Birthday Party Tips for Kids
1. Make your own party garlands.
You can make your own party décor using summer items such as pool noodles, colorful craft paper, or ribbon. You can chop pool noodles into segments and string them onto ribbon for a quick garland, or cut triangles out of craft paper to make a bunting banner. With all of the themed craft paper available, you can create any party theme you wish. You can also keep things super simple and just use paper streamers.  The kids won't care, I promise.  
2. Freshen up your beverages and snacks.
Make your party punch pop when you add colored ice cubes (just mix food coloring with water and or chopped fruit into the mix. You can even add a few scoops of sherbet to get the beverages tasting fresh and tasty. Make some quick and easy snacks by threading fresh fruit, veggies, cheese, and meats onto wooden skewers. These are easy to make, and easy for kids to grab and go. They are the ultimate finger food and still offer guests some variety!
3. Make a photo "booth"
We used some lumber my husband had that we literally laid against a tree branch. I got these printable photo booth props from Etsy and printed them myself.  A few dollars for the download, glued onto cardstock we already had, taped to skewers in the drawer…and we have amazingly fun and personal thank you card photo memories to share with my daughter's friends!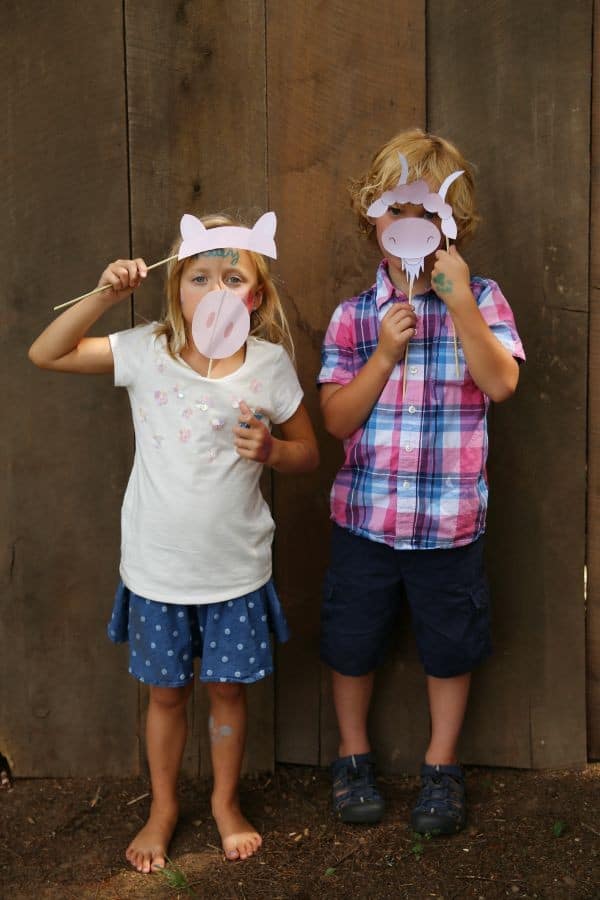 4. Make a mini sundae bar.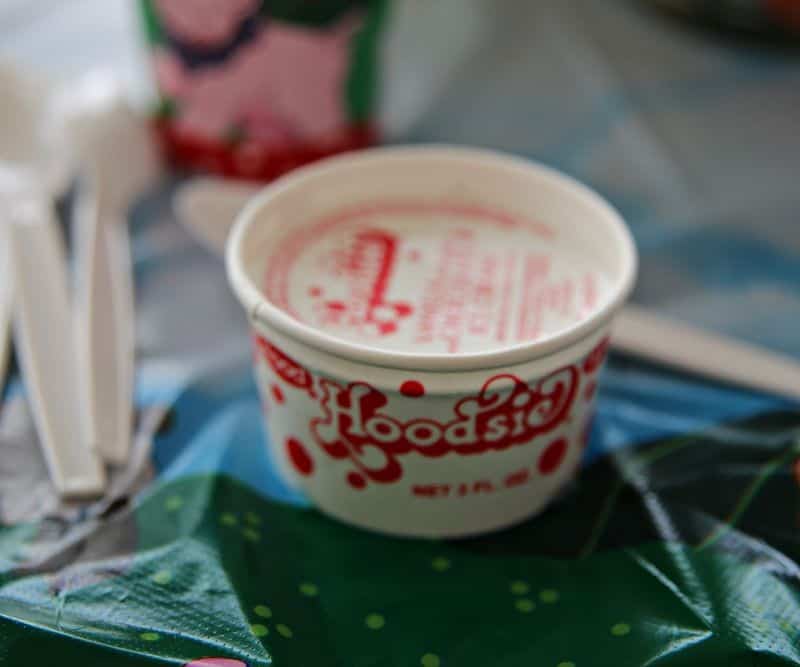 Hoodsie Cups to create a mini sundae bar. Give each child a Hoodsie Cup and have bowls of sprinkles, marshmallows, gummy bears, cherries, and other toppings available. Let kids make their own sundaes and create a dessert that is as unique as they are. Really, you can also just put the Hoodsie Cups out.  Kids love them.  Even my non sweet loving husband adores Hoodsie Cups!
5. Create some fun outdoor games.
Since the weather is typically nice in the summer months, enjoy some outdoor games. Have a basket available with balls, jump ropes, chalk, and other outdoor activities so kids can easily grab them and go. My husband made a super inexpensive bookshelf using wood we already had… and put a strip of carpet tack on the back of each shelf… kids threw tennis balls at the balloons, not darts…when the balloons hit the tack strip, they'd pop.  I think we went through 200 balloons in 2 hours.  With 9 kids!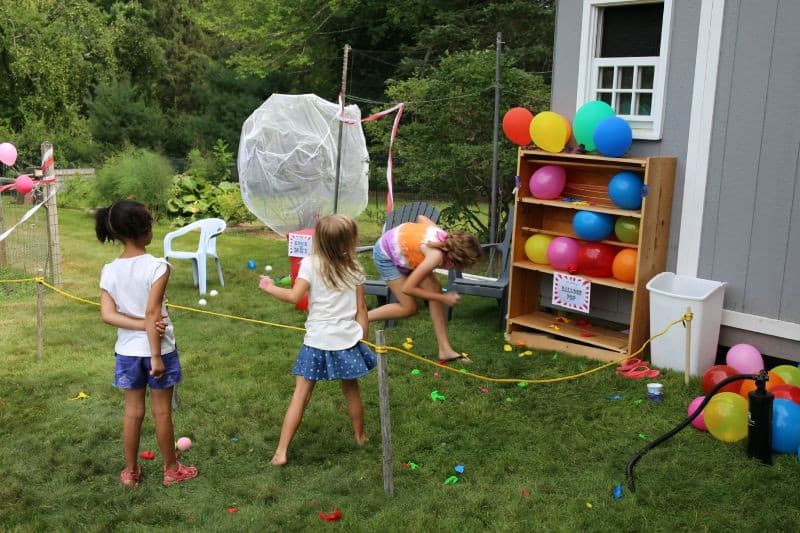 6. Cool off with some water games.
A water balloon fight or Slip n Slide is also a fun party activity. You can also use spray bottles or a water table to help kids cool off and have fun at the same time. Kiddie pools also offer the chance to cool off, as do squirt guns! A sure fire hit?  Water pinatas!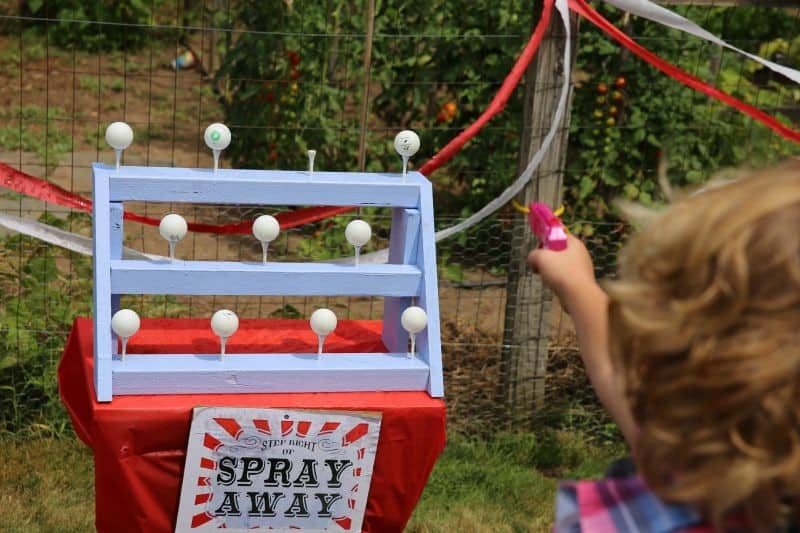 7. Enjoy some free tunes.
Turn to Pandora to find some summer music play lists. This way your guests can enjoy some sweet summer tunes and they won't cost you a dime! You can even have a dance off if you wish or other fun musical games like musical chairs.
8. Enjoy food picnic style.
Have plenty of blankets or towels on hand so kids can enjoy their food and treats picnic style. They will love camping out on the grass to eat AND it will make clean up easier for you as well.
9. Send home some summer themed favors.
Give guests summer themed items as favors. Some examples might be a squirt gun, some flower seeds, a popsicle mold, or even some sunglasses to enjoy. They will love having a token to remember the party by.
10. Make it fun for parents too!
Should parents be coming to this party as well, consider some adult food items such as grilled chicken and veggie skewers or adult themed punch. Make sure there are plenty of lawn chairs and include a basket of sunglasses for guests to pick from.
Throwing a summer birthday party for kids doesn't need to be hard or pricey. Give these ideas a try and see how much fun you can have!