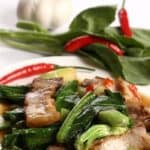 Here's an example of a recipe from RecipeMom.com- looks delicious AND kid friendly!!  I LOVE Thai flavors!! YUM.  Having recipes pop into my inbox once a week like this is awesome- not too many recipes, and always things my kids will enjoy (at least most ingredients…)
| | | |
| --- | --- | --- |
| Sweet and Sour Thai-Style Pork and Veggies | | |
Author:
This looks delicious!! AND kid friendly :o)
Ingredients
2 tablespoons vegetable oil
2 tablespoons Thai fish oil
1 tablespoon sugar
Ground black pepper to taste
12 oz lean pork
4 garlic cloves
1 small red onion, sliced
1 red bell pepper, seeded and diced
5 oz baby bok choy
2 plum tomatoes, cut into wedges
4 oz fresh pineapple, cut into small chunks
2 scallions, cut into short lengths
Instructions
Cut the pork into very thin strips. This is easiest to do if you freeze it for 30 minutes first.
Heat the oil in a large frying pan, add garlic and cook over a medium heat until golden. Then add pork and stir-fry for 4-5 minutes. Add onion slices and toss to mix.
Add the fish sauce, sugar, and ground pepper to taste. Toss the mixture for 3-4 minutes more.
Stir in the red pepper, baby bok choy , tomatoes, pineapple, and scallions. Stir-fry for 3-4 minutes more, then spoon into individual serving bowls.
Tip: This dish is great with a starch. Use plain egg noodles or jasmine rice for a more filling meal! Also, feel free to use your preferred vegetables. We also love broccoli and zucchini!