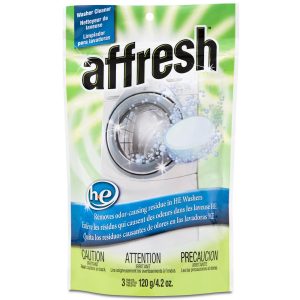 Or rather, I don't smell our washing machine anymore.  Remember a month or so ago, I confessed the dirty (gross) secret that sometimes and oh, did that confession lift a weight off of my shoulders.  I won't lie, it was very reassuring and comforting to know that so many of you, my friends, had the same secret.  We don't have to suffer in silence any more.  I found a solution that works for me.
Remember when I did confess, I also said I was going to try the affresh washer cleaner?  Well, I did.  And it was fine.  But then a few weeks passed, and I started thinking oh, boy, time for the stinkies.  But instead of waiting for the stinkies to join us, I decided to be proactive, and did the cleansing process as recommended by the folks at affresh.
It worked.
It really worked.  We've not had the stinkies.  Since JUNE.  Of this year!
It didn't even cost tons of money, nor did I need professionals to assist me or do it for me. 
You can do it too, if you want.  It's really simple.  You go to the store (or order online) and purchase affresh washer cleaner.
Go home, empty your washer.
Put an affresh "puck"  into your washer.
Run a normal or "clean washer" cycle (with hot water).
Voila.  You can do this three times back to back if you want to the first time to have a "fresh" start which is what I did.
Now, just remember to run a cycle with a "puck" once a month and your washer will be fresh and clean as a daisy!  This is a simple way to help optimize your washer and protect your investment- maintenance is part of all appliances, including your washer, and I think the more preventive meausures we take, the better our appliances will run (and hopefully the longer they run).
 "I wrote this review while participating in a campaign by Mom Central Consulting on behalf of affresh and received product samples and a promotional item to thank me for taking the time to participate."