Last pregnancy, I borrowed a lot of clothes from friends. Friends who were pregnant several years earlier, not exactly my same size, and not always my same style. It worked out – I had clothes to wear. But I didn't always feel fashion-forward. This time I was determined to have my own sense of style while pregnant!
So I was happy to discover Sweet Pea Maternity, affordable, trendy maternity clothes for modern mamas!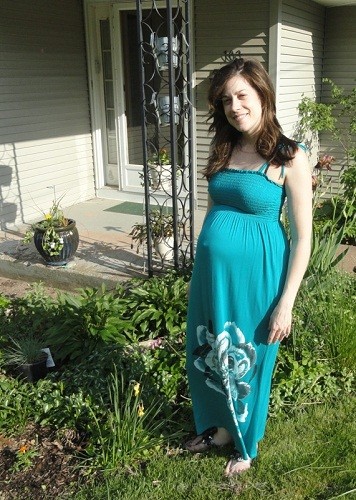 For summer, I'll be refreshingly cool in this aqua maxi dress with spaghetti straps – it's flowy and lightweight, and with a flash of metallic silver in the flower motif at the bottom! You can wear this as a dressy item with little heels or as a beach cover-up – it really works both ways! Maxi dresses are my go-to items this pregnancy, having a summer baby, and Sweet Pea Maternity has a large selection of fun summer dresses!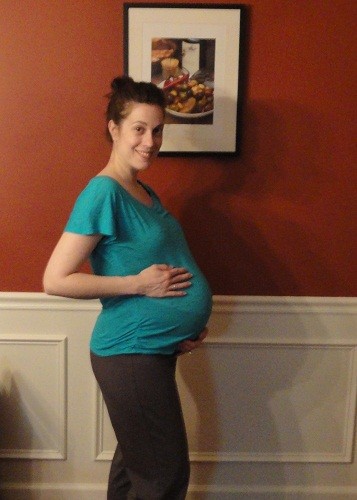 T-shirts and tanks abound at Sweet Pea, and I've been sporting this teal blue-green t-shirt a lot lately. It has tiny black dashes of detail throughout, keeping it from being just your basic tee. And it's stretchy and comfortable, which all prego mamas love!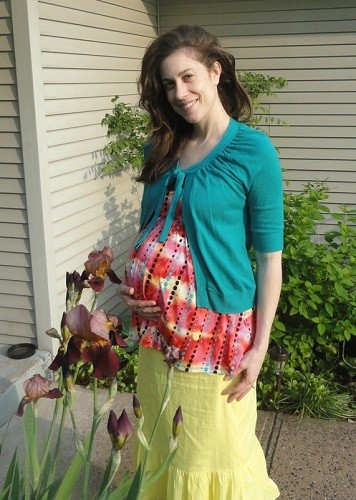 For a lot of splash, I have this lace-topped tank. A silky fabric, it pairs well with so many items because it's full of color. I'm wearing it here as a very colorful pairing with yellow and green, but I can tone it down with jeans and a black cardigan too!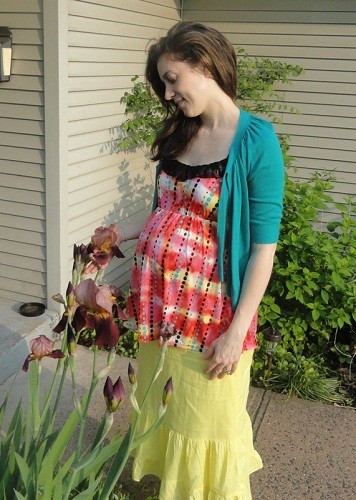 The variety of styles and colors that makes Sweet Pea Maternity a great place to shop! Sweet Pea Maternity doesn't just offer four or five choices in each category of maternity clothes – there are literally pages to look through (I think having lots of choices makes shopping more fun!). Every piece has a modern cut and color, and while they carry some basic items, their specialty seems to be keeping you current with fashions! But act fast because they sell out quickly! With the most expensive item is about $34, and most prices are under $20, it's easy to stock up on cheap maternity clothes, at Sweet Pea Maternity!
One reader will win a $25 Gift Card from Sweet Pea Maternity!  
Javascript must be enabled to enter this giveaway. Learn how to activate Javascript by
clicking here.

Loading Entry-Form
This is a guest review from my friend Julie.  All opinions are her own, of course.  (Doesn't she look adorable?)
0