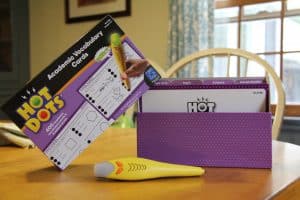 Talking Hot Dots® Pen is made for ages 5-12 and gives them feedback in a fun way- at their pace.  Its a neat way to reinforce concepts learned in the classroom at home or in the classroom! 
Allows students to choose talking feedback, fun sound effects or both, and cheers for students when they answer correctly
Provides immediate visual feedback with red and green lights for incorrect and correct answers
Features child-friendly design that makes the pen easy for young hands to use
Works with Hot Dots® Activity Cards for phonics, reading comprehension, math operations, fractions, time and money—perfect for center activities
Requires 2 AAA batteries, not included
Grades K+
Hot Dots® Academic Vocabulary Card Sets Grades 1-3 was included with our Hot Dots pen, and we've had some fun working on these cards together, my Busy girl and me.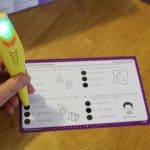 Alone, this pen won't do much of anything.  With the Hot Dots card sets, this little pen can be a really fun tool to help you reinforce concepts taught in your classroom or that your child learned in the classroom at home.  I like products like this because it allows children to work at their own pace, something I feel very strongly is key to their success.  It's also fun,  and the rewards for correct answers/responses come instantly, so no need to wait for answers to be checked. 
Academic vocabulary development and familiarity with multiple-choice format is crucial for successful standardized test-taking. Hot Dots® Academic Vocabulary Card Sets makes it fun to build academic vocabulary! Each set of 50 double-sided cards reinforces 400 important academic vocabulary words from science, math, social studies, and language arts using the interactive Hot Dots Pen (sold separately). Perfect for learning centers or anywhere in the classroom, this self-checking system enables students to work independently with instant reinforcement.
I can see these being a great tool for teachers to have in their classrooms for students to play with if they finish work early, or need a little extra practice in a subject area.  I am fortunate that my kids love schoolwork and anything remotely relating to workbooks and flash cards and they adore games like this!    I think this might even appeal to kids who aren't so gung-ho on schoolwork.
The price point on both of these products is quite reasonable- $9.99 for the Hot Dots pen and the sets seem to all be priced between $14.99 to $17.99- and you can create your own sets as well!
One of my readers will win a Talking Hot Dots® Pen and Hot Dots® Academic Vocabulary Card Sets Grades 1-3
I received a sample of this product to facilitate my review.  Opinions expressed within are my own.
0