Who out there isn't looking for that perfect chocolate chip cookie recipe?  I know Jenni and I always are.  Here's one that is borrowed from our friend Hannah's Aunt Katie's cookie recipe, and made our own.  So delicious.  So yummy.  They don't last long.  Don't expect to bring any leftovers for lunch to work because everyone in our house finds ways to sneak just one more in…  So without further ado I give you…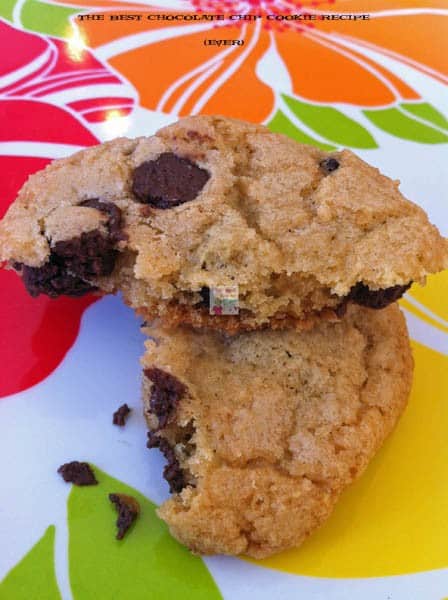 The Best Chocolate Chip Cookie Recipe (ever).
Ingredients:
In large bowl, mix:
1.5 cup flour
1cup oatmeal
1 tsp baking soda
1 tsp salt
In separate bowl combine
6 TBSP melted butter (we use unsalted- maybe you can use salted butter and skip the tsp salt above?)
6 TBSP Crisco
1 cup brown sugar
1/4 cup white sugar
1 egg
1 egg yolk
1 tsp Nielsen Massey Vanilla  Pure Extract (You don't have to use this brand, but to be honest, I find using higher quality vanilla extract will give me better cookies every single time.  Worth the investment).
Mix "wet" ingredients into the flour mixture.  Add 2 cups chocolate chips.  Drop by teaspoon onto cookie sheet lined with parchment paper
Bake 325 15-18 minutes
We did receive samples from Nielsen Massey but that doesn't change our opinion.  Their vanillas and other products simply add more and more to the flavor of the cookie.