I've loved my crockpot (slow cooker?!) for years now.  Lately, I've come to love it more, and also appreciate it more.  The busier my kids get, even though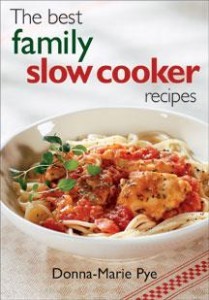 I'm home full time, the more I need to get dinner prepped earlier and earlier.  There are days when I'm doing dinner stuff while the kids eat breakfast simply because of the schedule for the day- my youngest is a very, very busy little 19 month old who loves to climb.  I can't very well be chopping veggies while she's standing atop the toilet tank reaching into the medicine chest, or climbing up onto the banister of the stairs.  So, I cook when I can grab a few minutes. 
The Best Family Slow Cooker Recipes , by Donna Pye (publisher: Robert Rose) is a newer cookbook we've tried several recipes from, and have really enjoyed everything we've made thus far.  The kids like the foods, I like controlling what's going on the table, and the kids LOVE to help me make dinner!  We all enjoyed the Italian Meatball and Bean Ragout (page 128). 
One thing that I really like about this book is that when you have, say, a can of chiles needed for a recipe, the recipe clearly states "with liquid" which is something I'm always wondering and usually calling one of my siblings or friends to ask their thoughts on.  The ingredients aren't ones that are hard to find, and even a novice cook (like me) can find them easily at the store.  I get really frustrated and overwhelmed when I'm trying a new recipe and the ingredients are not easy to find or are in a weird place in the store. I like simplicity.  I also like family friendly.  I really like healthy and nutritious.  You will find all of these components in this cookbook.
I will warn each of you (like me) who has a sweet tooth that this book doesn't have a lot of desserts.  But the ones they have seem great- we made the Maple Sauced Pears on page 177 and oh, are they delicious!!  My kids liked them plain but you could put some whipped cream, cool whip or vanilla ice cream with them for a little extra pizazz. 
Delicious slow cooker recipes created especially for busy families.

A slow cooker is the perfect appliance for families who want good, nutritious food with a minimum of effort. Simply throw a few ingredients into the slow cooker in the morning and your family can come home at the end of the day to a hot, satisfying meal.

The Best Family Slow Cooker Recipes features 125 easy, imaginative and delicious recipes — each tested for dependability:

Lunch box planning is a snap with Vegetarian Chili, Cheesy Pesto Pasta, Meaty Minestrone and Raspberry Cobbler
Everyday family meals become an event with Brunswick Stew, Ginger Beef and Broccoli, Italian-Style Stuffed Peppers or Johnnycake Cornbread
The next pot luck will be a hit by including Pepperoni Pizza Chili, Oktoberfest Hot German Potato Salad or Homestyle Barbecued Ribs
A sweet slow cooker desert surprise awaits you with Double Chocolate Caramel Bread Pudding, Brown Sugar and Coconut Baked Apples or Raspberry Cobbler

The Best Family Slow Cooker Recipes also offers detailed information on slow-cooker techniques, serving suggestions and kitchen tips.
You can find this cookbook and many others at RobertRose.ca (and find where to purchase them in brick and mortar stores).
I received a sample of this product to facilitate my review.  Opinions expressed within are my own.