The Best Renovations for Family Homes
When you have a family, your home becomes an increasingly important space. Sure, it's important that everyone feels comfortable in their homes and that they like the space they're renting or buying. But when you have children, or sorts of other factors come into play on top of the factors single or independent people have to consider when buying a property. You have to make sure that the house is near a good school that your children can attend. You may have to ensure there are public transport options for older children to have some independence. You might want to ensure you're near certain clubs or facilities to facilitate your little ones' hobbies and passions. You want to make sure that the area is safe with low rates of crime. You may need a house with a garden to accommodate pets or for your children to play safely in during the summer months. The number of tick boxes goes on and on. Of course, once you find a property that meets these requirements you're not going to want to give it up.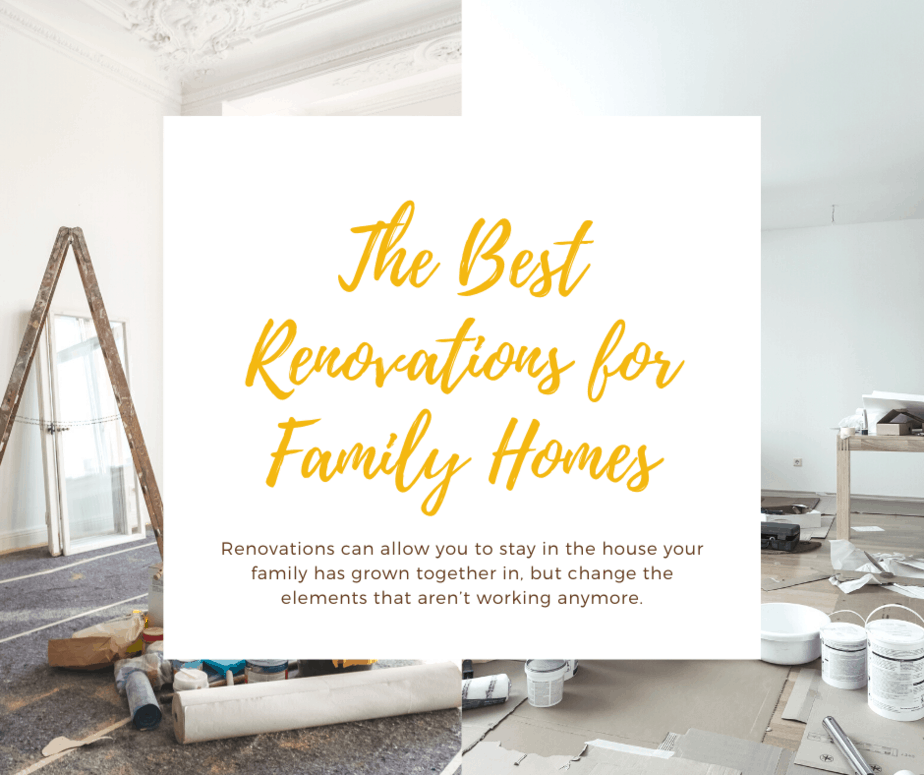 There are a number of things that could push you to consider a move from a home you've found that you love. Maybe your family is growing and you need more space. Maybe you'd like some additional extras that the home doesn't have. In these situations, where you may be reluctant to move but your needs have changed, it's a good idea to consider renovations. Renovations for family homes allow you to stay in the house your family has grown together in, but change the elements that aren't ticking your boxes anymore. This can save a lot of money in moving costs and can reduce disruption in your children's lives. Often, it can prove cheaper and increase the value of your home too! Now, if this sounds good to you, you may want to learn more about the process and determine what renovations tend to be best for family homes. Here's some information from a visiting writer to help you along your journey!
Notes Before Starting Out
Before you dive in the deep end and start getting quotes on renovations you have in mind, there are a few steps you should take into consideration first. Take a look at these to make the renovation process as convenient and straightforward as possible for yourself and your family.
Set Yourself a Budget
Perhaps one of the most important things to do before even considering renovations seriously is to set yourself a budget. You need to be realistic about what renovations you can afford and how much you're genuinely willing to spend on them. When you start getting quotes, you'll be in touch with sales people whose role it is to encourage you into an agreement. You should know exactly what you want and what you can afford before this point. If you're unsure how to create a budget, a good financial advisor will be able to take a look at your family's finances and make some recommendations.
Get Planning Permission
Next, you need to check whether you'll get planning permission on the renovations you're considering carrying out. Planning permission is a permit that allows you to go ahead with your chosen renovation work. All too many people fail to take this step and go ahead without permission. But you could find that someone reports you, you don't get granted permission and have to spend money reverting your property to its original state. This is costly and a big waste of time. So, always check and wait for approval in advance.
Use Quality Contractors
Once you've settled on your budget and you've gained planning permission, it's time to start looking at who will carry the work out for you. There are going to be countless companies offering the services you're looking for. So, make sure to look them up, ask to see a portfolio and read plenty of reviews. This will give you insight into how well their previous projects have been received.
Popular Family Home Renovations
So, what kind of renovations might you want to try out? Here are some of the most popular amongst families.
Extensions
Extensions tend to be one of the most common and popular renovations that people carry out on their family homes. This makes sense. Sometimes, families grow and expand. You may have more children than you originally anticipated. You may have kids sharing bedrooms who've grown older and want their own space. Extensions can provide you with that extra space that you may need. They can add an extra room, or multiple rooms, to your property, making extra space for extra little ones to spend time. The type of extension that will best suit you will depend on the type of property you live in, the amount of extra space you want and how much you have to spend. One option, which is simple and straightforward, is a ground floor extension. Most will stretch out into your garden space. An alternative option is a multiple floor extension. This can add on top of a ground floor extension.
Loft Conversions
Now, you may want an extension for an extra room, but don't have any extra space around your property to achieve this, you don't have to get down. You do have options available to you. The best tends to be a loft conversion. This will take your loft space, which is often disused space, and turn it into a functional room. This could be used as a bedroom, a games room, a home office or anything else! Loft conversions also generally require less work than a full extension, minimising the disruption to your routine and keeping construction workers on your property for a minimal amount of time.
New Windows and Doors
New windows and doors might not immediately spring to mind when it comes to home renovations, but they can make the family home a much more convenient place to live. If your kids spent a lot of time in the garden, having wide, sliding doors or french doors, which allow you to see them easily from inside the house, will mean you can rest assured their fine without necessarily having to spend your time outside in the elements yourself. Durango Windows and Doors are a good place to start out.
En Suites
An ensuite is, rather unsurprisingly, another popular choice for families. When you have one shared bathroom between everyone in your household, you'll quickly begin to find that everyone bickers about who's getting ready when. Having your own ensuites provides you with some privacy. You can use your own bathroom as and when you please, away from the chaos of kids getting showered and dressed in the mornings. Ensuites do take a little work, as they often require rerouting plumbing. However, they're worth the time and money invested and can actually increase your property's value too!
These aren't all of the renovations available to you and your family, but they are, by far, some of the most requested. Each can provide you and those you live with with a distinct perk that benefits you all. So, start creating a budget and determine which options will best suit you and your nearest and dearests' needs. This could really make all the difference to your day to day life, maximising what your home offers you all!