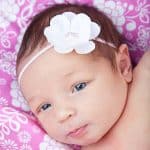 I've professed my love and undying devotion to hair accessories many times in my life, including right here (and here, here , here oh and here too! on my blog, and today I'm excited to tell you that Jill from The Bowtique is moving soon- which means a sale for all of us and a $30 gift certificate to spend for ONE of you!  Can't wait to shop?  Enter SPRING20 at checkout for 20% off!!
Of course, being the creative lady she is, she's got some new items on her site, and even more coming- check out these Kanzashi flowers- aren't they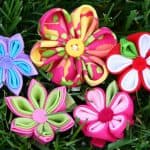 darling?  You can use your gift certificate to buy some…………..or you can peruse the site and buy what you like.  I, of course, always head to the new section first and then to the sales, throwing caution to the wind and ordering clips and pony o's left and right.  I've been told I have a "problem" but really, I think I'm just very aware that little girls need a wide variety of hair accessories.  I know I'm right.  I have to be.  :o)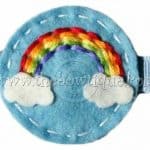 I love fun hair accessories for both my girls- with or without hair, Bowtique clips ALWAYS stay put, always look great and hold up really well.  I've washed them, they've gone through the washer, and they are fine.  Looking mighty fine!  I just feel like the right hair accessory can really make a gloomy day fun or brighten your mood or just finish an outfit- or make a grownup smile as they look down and see a little hedgehog on your head- they are just FUN and practical and darling.
One of you fantabulous readers will win $30 to spend at The Bowtique!
Mandatory Entry: Leave a comment with your name and a valid email (the email in the comment form is fine, no need to enter it a bunch of times)
Extra Entries:
Like The Bowtique on Facebook and leave a comment (so we can verify you are a fan!) +2 entries
Subscribe to my email newsletter or RSS feed +1 entry each
Tell me what your favorite clip or hair accessory is that you'll choose if you win!!  (I'm nosy, what can I say?)
Share this giveaway on any social networking site: @mamatomjr is giving away $30 to spend at @thebowtique on #hair #accessories for #girls http://wp.me/p1qA6G-1oo (can be done 2x/day at least 1 hour apart)
Enter any other giveaway +1 entry/giveaway (up to 5 entries)
Leave a relevant comment on any nongiveaway post (+1 entry per post, up to 5)
This giveaway will end on May 15, 2011 at midnight, EST.  US & Canada only.  Winner to be chosen using "And the Winner is" plugin.  Winner has 48 hours to respond to initial contact or a new winner will be chosen.
I will receive samples of this product in exchange for this post.  Opinions expressed within are my own.  I cannot accept responsibility for monies spent on hair accessories from The Bowtique – I have a hard enough time justifying them in my own house!