The folks at Walt Disney World have been working overtime to deliver new and exciting attractions to the famed amusement park.
Summer 2018 has been an exciting year for Disney fans, with the opening of Toy Story Land in Disney's Hollywood Studios. I was lucky enough to attend the media preview of the Land two days before the opening.
The fact of the matter is, with any new addition to any of Disney's 4 parks, people will be lining up (literally) to be one of the first to experience the latest and greatest from Disney.
Navigating Disney can take the planning of someone with a doctorate in Disney. A trip certainly isn't as simple as the days of showing up and meeting characters along Main Street USA and hoping on rides.
Here are our tips for maximizing your time at Toy Story Land (and Walt Disney World) in general.
Certain Hotels will make a big difference.
Believe it or not, your hotel choice can make a difference in having the best chance at getting on your favorite rides quickly. Staying on Disney property (or recently their good partner hotels) means that you can book Fast Passes as soon as 60 days prior to your stay. While guests of non-Disney properties have 30 days to get their fast pass selection in.
FastPasses can be your best friend
Which brings me to my next point, be strategic in booking your FastPasses, if possible, book them as close together time wise as you can. Each guest gets 3 FastPasses per day, that can be pre-scheduled. Once you've used all 3 of your FastPasses, you can then schedule one at a time, for any rides you may want to bypass the regular line.
Visit Toy Story Land at Night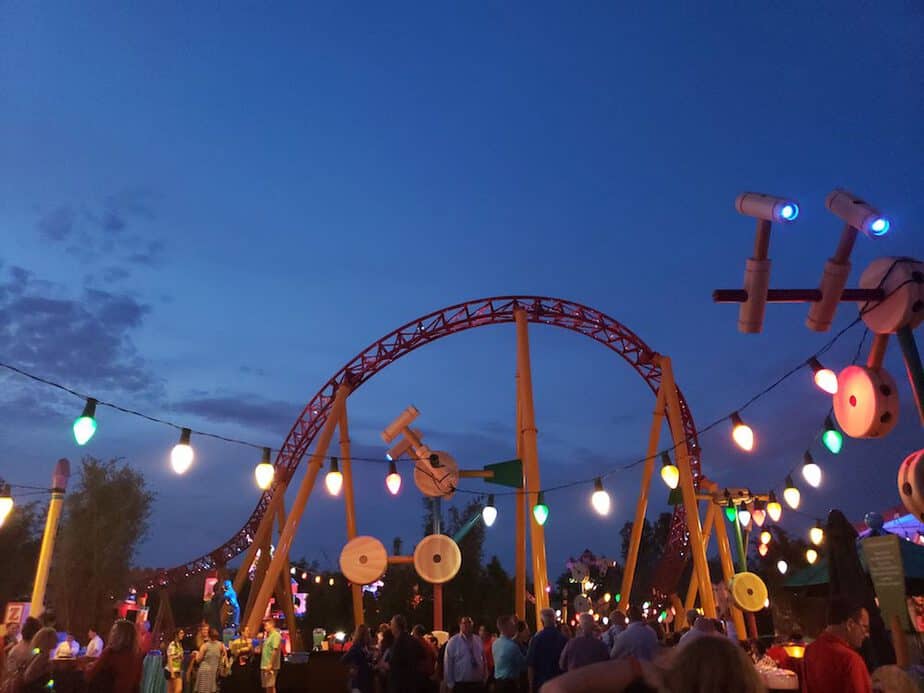 Toy Story Land was tons of fun in the daytime, but when the sun set and the lights came on, I have to say, it was downright magical. If you can only visit once, I urge you to visit during the evening hours. It is really something to see!
Here is the scoop on the Toy Story Land Rides
There are 3 rides located in Toy Story Land, 2 are brand new, and one is an old favorite that has gotten a new entrance.
The two new rides are Slinky Dog Dash (the roller coaster) and Alien Swirling Saucers.
Slinky Dog Dash is the ride the longest wait time and for good reason, it is a ton of fun. I loved it so much that I rode it 7 times in a row during the media preview. This is the ride that I would use a FastPass on in Toy Story Land. Don't let the name or the photos fool you, this is not a classic kiddie ride like the Barnstormer found in Magic Kingdom. Slinky Dog Dash provides enough thrills that mom and dad will enjoy it just as much as the kiddos will. Just a note, the if you are the first rider in the car, to the far left you can see more of the steep drops. So, those riders in your party who have a tendency to get a bit nervous should probably sit on the right hand side. If you are looking for a more thrilling ride, the very back is where you will want to be. I did the dirty work for you and have ridden in the front, middle and back. The back was hands down my favorite spot to ride Slinky Dog.
Since opening, Alien Swirling Saucers has had pretty manageable wait times, so if you can manage a reasonable wait, I would ride it without the fast pass. This ride is not a 'spinning ride' like the tea cups, but rather reminded me of the scrambler that you find in pop up carnivals in grocery stores. This isn't a bad thing this ride was always a favorite of my dad and I, so it brought back feelings of nostalgia for me.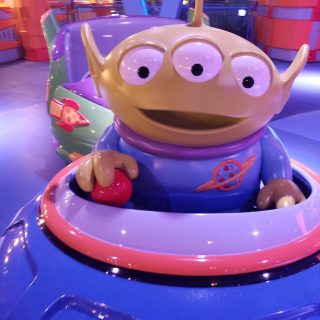 The third ride is Toy Story Mania, which has been at Hollywood Studios for years. The entrance has been moved inside of Toy Story Land and a 3rd track has been added. Keep your eyes peeled for Mr. Potato head while you are in line…he may even talk back should you talk to him.
Keep your eyes open for cool Disney details.
Like everything that Disney does, there was an extreme attention to detail given to this new area. The intention was that upon entering, guests would feel as if they had shrunk down to the size of a toy. There are so many details, that are just waiting to be discovered. Keep your eyes peeled for green army men and their antics, huge footprints that Andy has left behind and if you look closely enough, I bet you'll find that even the tinker toys make shapes you recognize! For more Toy Story Land coverage, check out our friends over at Family Vacations U.S. and her time at Toy Story Land.