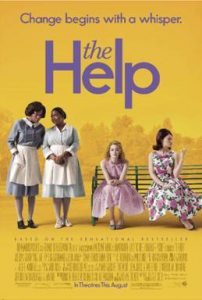 Before I share the featurette with you, my friends, I want to tell you right now that I have an assignment for you: READ THE BOOK The Help.   I read this book on my flights en route to LA last Wednesday and oh gosh, its awesome.  It really, truly is.  I laughed aloud and I wept, right there on the planes.  (Apologies, fellow passengers, who clearly thought I was off my rocker). 
But I want you all to read it so we can dish on it.  And, it will help you to get even more excited for the movie's release date on August 12th. 
I can't spill any details, and won't give spoilers or anything, but I will tell you this:  during the screening we had at Dreamworks last Friday morning, I was absolutely enthralled with this movie.  It has been at least 10 years since I felt so much during a movie.  The casting for this movie is amazing.  The story itself is awesome, the screenplay is great, and the actors simply amazing.  I laughed and I cried, and then I cried some more.  Its awesome.  I can't wait to go again when this comes out in theaters.  
Don't wear mascara, and definitely don't wear false eyelashes when you go see the movie.  You may end up with raccoon eyes like I had. 
Based on one of the most talked about books in years and a #1 New York Times best-selling phenomenon,  "The Help" stars Emma Stone ("Easy A") as Skeeter, Academy Award®–nominated Viola Davis ("Doubt") as Aibileen and Octavia Spencer as Minny—three very different, extraordinary women in Mississippi during the 1960s,  who build an unlikely friendship around a secret writing project that breaks societal rules and puts them all at risk. From their improbable alliance a remarkable sisterhood emerges, instilling all of them with the courage to transcend the lines that define them, and the realization that sometimes those lines are made to be crossed—even if it means bringing everyone in town face-to-face with the changing times.

Deeply moving, filled with poignancy, humor and hope, "The Help" is a timeless and universal story about the ability to create change.

Based on one of the most talked about books in years and a #1 New York Times best-selling phenomenon, "The Help" is a provocative and inspiring look at what happens when a southern town's unspoken code of rules and behavior is shattered by three courageous women who strike up an unlikely friendship.
Listen- you have time to read this before the August 12th release date.  Its worth the read.  Just keep tissues at hand :o)

My advance screening of this movie was part of my trip sponsored by Disney & DreamWorks.  All opinions expressed within are my own.
 [ad#glam between posts]
0