The Help is an amazing novel written by Kathryn Stockett and turned into what I think will be THE movie of the summer by her childhood friend Tate Taylor. I'd heard of The Help for a long, long time before reading it- always good things, and I knew I had to read the book before I saw the movie back in June. The minute you open the book and set your eyes on the first page of the first chapter, you're drawn in. Its like you are IN Jackson, Mississippi, in the 1960's, as if Abileen, Minnie, Hilly or Skeeter might pass you when you walk slowly down the dusty roads in the midst of a hot summer day.
Thankfully, the movie does the same. I was drawn in from the opening scene and quite honestly, continued to be even after the credits had finished. 
I had no idea how powerful my reaction was going to be to this film – none at all. It has been many, many years since a movie has affected me so greatly. I have not ever, not once, been laughing aloud during a movie and had that laughter turn into sobs before my laugh was finished. This movie is deep, its dramatic, its heartbreaking- its powerful, strong, emotional, but its also lighthearted in spots and there is some hilarity that just fits in perfectly along the way.   The characters were so perfectly cast, and the talent in this movie is phenomenal.  Really phenomenal.  I cannot even fathom what it must have been like to experience being on the set of this movie working with these amazing women who really threw themselves into these roles. 
Based on one of the most talked about books in years and a #1 New York Times best-selling phenomenon,  "The Help" stars Emma Stone ("Easy A") as Skeeter, Academy Award®–nominated Viola Davis ("Doubt") as Aibileen and Octavia Spencer as Minny—three very different, extraordinary women in Mississippi during the 1960s,  who build an unlikely friendship around a secret writing project that breaks societal rules and puts them all at risk. From their improbable alliance a remarkable sisterhood emerges, instilling all of them with the courage to transcend the lines that define them, and the realization that sometimes those lines are made to be crossed —even if it means bringing everyone in town face-to-face with the changing times.

Deeply moving, filled with poignancy, humor and hope, "The Help" is a timeless and universal story about the ability to create change.

Here are some of the amazing characters without whom this movie could not be what it is today (I cannot write about all of them or I will have you reading my post instead of going to see the movie all day long!!):

Abileen (Viola Davis): She stole my heart instantly.  You cannot help but hurt when she hurts and laugh when she laughs.  Her strength and bravery and strong presence were amazing, and her courage to be the first of  "the help" to tell Skeeter her story is inspiring.  Affectionately called "Abie" by the children in her care, the children she raised, cared for, cared about, cared after, it was very painful and uncomfortable to watch as she speaks of those same children who adored and worshipped her grew up and became her employers, and she would then in turn raise their children- with the cycle repeating itself.

A third-generation housemaid, who at 53 years old has raised 17 children in her care, Aibileen discovers her voice and the courage to defy the conventions of the early 1960s.

Aibileen Clark has been a maid all her life, working in the white homes of Jackson, Miss. She has raised 17 children for her employers and one son of her own, who was tragically, and unnecessarily, killed in an accident. Depressed since the loss of her only child, Aibileen draws strength from both her faith and her best friend Minny. With quiet courage and dignity, Aibileen fulfills her duties as the Leefolt family's maid, caring for their little girl, Mae Mobley. When she reluctantly collaborates with Skeeter, Aibileen finds herself opening up and telling her stories for the first time in her life—even though the seemingly simple act brings with it the risk of retaliation.
Skeeter (Emma Stone)- Brave, strong, talented, and oh so feisty, she doesn't quite fit in when she returns home after graduating college and finds her niche in the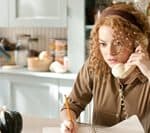 most surprising place…she wants the career and isn't concerned about a husband, house and family much to her mama's chagrin!
A bright, enthusiastic recent college graduate and aspiring writer, Skeeter bucks the trend for southern women of the time by being more interested in her career than marriage.

Eugenia "Skeeter" Phelan just graduated from Ole Miss and is intent on getting a job as a writer. Unlike the girls she grew up with in Jackson, Miss., Skeeter wants a career and is quite content to put marriage and children on hold—much to her married friends', and her family's, constant consternation. When she lands a job writing a cleaning-hints column for the local newspaper and seeks help from Aibileen, her best friend's maid, Skeeter finds herself embarking on a secret writing project, spurred on by a book editor in New York and inspired by the moving stories she uncovers.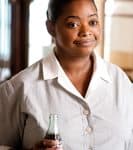 Minnie (Octavia Spencer)- You laugh at her inability to stay quiet, you marvel at her "sass" and you sit in awe at the abuse she takes at home.  She's smart, she's funny and oh, will she ever make your jaw hit the floor with the TERRIBLE AWFUL!!
Known as much for her sass as her great cooking, Minny won't take much guff from anyone, but her heart is always in the right place.

Minny Jackson is a 33-year-old housemaid who has a reputation as the best cook in Mississippi. She works for the Holbrook family, but an act of defiance finds her fired and traveling to the outskirts of Jackson to work for Celia Foote. Minny is Aibileen's best friend and helped her get through her grief over losing her only son. Strong and loyal, increasingly unafraid to speak her mind, Minny refuses to be quiet or invisible.
Missus Walters (Sissy Spacek) has some of the best lines in this entire film.  She's awesome.  The way she gets under her daughter's skin is just oh so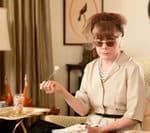 very much fun to watch!  She's definitely showing signs of early onset Alzheimer's disease but man, she's still pretty sharp and doesn't miss the important stuff.
Missus Walters is suffering from early Alzheimer's but her sense of humor is still very much intact—especially when she pushes her daughter Hilly's buttons.

Missus Walters is Hilly Holbrook's mother who comes to live with Hilly when she is in the early stages of Alzheimer's. She brings along a more tolerant attitude and her loyal maid, Minny, to work in Hilly's household. Although she is old-school Southern, Missus Walters treats Minny with compassion and considers her a friend—unlike her demanding daughter. Missus Walters does not often agree with her bossy, social-climbing daughter and delights in feeding the fires of her discontent whenever and however she can.
This is one of those movies you need to go see. Grab your sister, your best friend, your daughter, your aunt…and GO.  Bring your tissues, because you'll probably need a few of them.  I was supposed to see it again on Monday of this week but my baby got sick and I wasn't able to go- but I WILL Be seeing it again, in the theater. I never see movies twice in the theater.  Not until now! 
I want to know what you all think of it once you've had a chance to see!! 
I screened this movie as part of my trip to Los Angeles thanks to Disney and Dreamworks.  All opinions expressed within are my own.
0