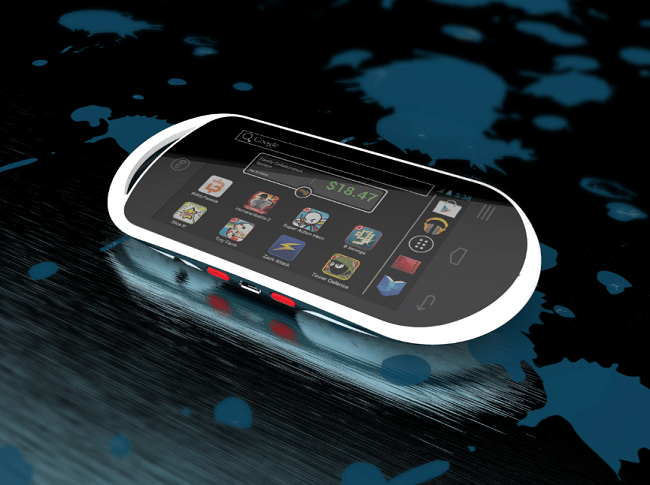 Attention parents! You may get your smartphone back– without having to get your kid their own!  Play MG (M=More G=Game) is an Android based gaming system designed for young people under the age of 18. It's got a nice-sized 4 inch touchscreen and over 60,000 apps to choose from.  Kids can use their own money to buy more apps and games, or maybe, if they get lucky, a little of mom and dad's money instead. The MG has a sleek, modern design and will definitely fill that tech-lovers need to have a cool new gadget- at a surprising price that won't break the bank.  The reason?  There is no contract for service.  No data plan to pay for each month.  The MG uses wi-fi.  It's kind of like a little tablet that fits in your pocket.  It's got photo and video capability with a 1.3 megapixel camera.  With the wifi and the camera capabilities, I think this does work more like a pocket sized tablet than a gaming system.  I think the "big names" are going to have some serious competition on their hands!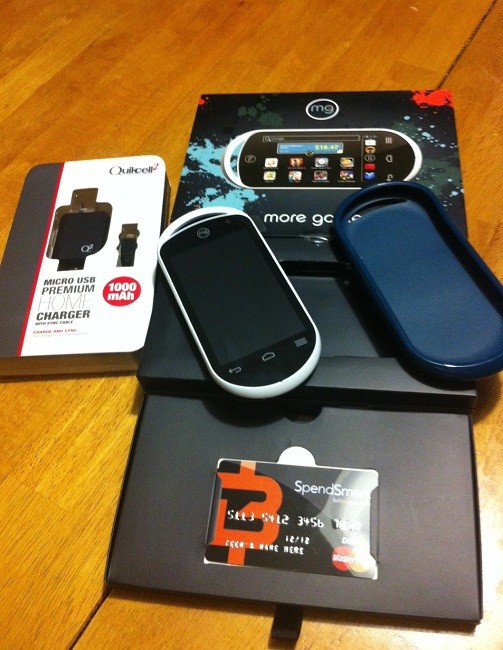 The MG comes preloaded with 11 games.  Eleven.  That's not too shabby.  The unit alone sells for $169.99 although it's marked down to $149.99 right now AND it comes with some extras- including $10 of premium games already loaded onto the unit, an 8gb micro SD card, plus a $10 credit on the "BillMyParents" SpendSmart prepaid with Mastercard on deposit (which is where you can have your own money or the kids' money loaded to add more games to their MG). The charger isn't included with purchase because the device can go into any standard USB charging port.  That's good for our earth! (And in my house, one less thing to lose track of…)
Not sure you want to have all of those games already loaded when you gift the MG?  No problem- there are 2 other options for purchase right now- one is the MG unit with a case plus charger, priced at $159.99- which comes to a $15 overall savings. Be prepared because there are 5 case colors to choose from.  Not adult colors and definitely not little kid colors- perfect for the teens and tweens who will be using this device!  The 8mg micro SD is included on all of the MG models!
The last option for purchase right now is the MG gaming system with 2 cases. This would probably be my first choice- if only because I love cases and view them as accessories first and protection second.  This runs for $169.99.  This would be an awesome holiday gift and if you wanted to add something else, you could add some cash to a "BillMyParents" card!
The $10 worth of top EA Mobile games 'Need for Speed Hot Pursuit' and 'NBA JAM' preloaded
• Eight Com2uS popular game titles preloaded; Slice It, Swing Shot, Homerun Battle2, Tiny Farm, Tower Defense, 9 Innings Baseball, Super Action Hero and Derby Days
• Proprietary MG Origins Avatar System: as gamers use the MG, they gain points, customize and unlock the origin= story of their own personal gaming companion
• 1.3 Megapixel Front-­‐Facing Camera and ability to shoot and play video
• Stereo Headset Jack
• Operating on ICS 4.0
Did I mention? The MG fits in your pocket!  This is going to get parents their smartphones back, my friends.  Just you wait.  Of course, I have a feeling that a few parents may start playing with the MG themselves….it's a pretty cool device, after all. Parents can also rest assured because of Remote Trust that all MG units come with – parents can access and view anything their child is looking at, downloading or playing on the MG.
Play MG is available for purchase on their website and also on Amazon.com. This would make a marvelous gift.
Now the exciting part: one lucky reader will win a PlayMG of their own! 
To Enter: Leave a comment telling one feature of the MG device you like or can't wait to check out!
Want extra entries?
Leave a separate comment for each entry method you do and either leave your username or the URL of your "share"
Visit PlayMg.com and tell me something you like or learned.  Leave a comment with what you learned, liked, loved or bought!
*Click on any image or link in this post about Recalls (and it's a great app to download!) Comment here that you clicked (can be done 1x/day)
*Leave a relevant comment on this post 
*
*
*

*Follow MG on 


*Leave a  relevant comment on this post about being organized for taxes
*Leave a comment on any non-giveaway post +1 entry/day
*Share this giveaway on any social networking site- +1 entry per share per day (can be done on multiple sites)
This giveaway will end on December 21 2012 at 11:59 pm EST. Winner has 24 hours to confirm shipping info. We'll do our best to get this to you by 12/24!

A sample was provided to facilitate this post. Opinions are my own.