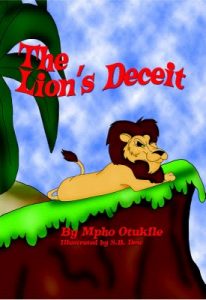 The Lion's Deceit is a wonderful children's book in which a lazy lion uses trickery to get his food so he doesn't have to hunt for it- and there are several lessons to be learned along the way. We love books in our house and are always excited to have new ones to read- my oldest has read this several times to the younger kids, and we've all read it together a few times as well.
I like that Mpho Otukile is continuing a tradition of storytelling morals and life lessons through children's literature. I think this is a beautiful gift she is giving not only her own children but mine as well- and any other child who reads her stories.  I'm anxious for her next story to come out!
Life lessons and morals need to be shared somehow, and I remember clearly my mom and dad pulling particular books from the shelves depending upon what trouble we got oursleves into as children.  Laziness isn't the way to live- and stories like this help to illustrate this message to children clearly without seeming condescending or preachy, which hopefully means kids will be receptive to learning them and not resentful that they are being taught lessons.
This is a sweet book and I think it would be a nice addition to any bookshelf.  I'm happy to report that my children agreed with the story that hard work is important and laziness is not a good thing!
Purchase autographed book from Village Life Books (Ships from Canada)
http://www.villagelifebooks.com
or
Purchase from Createspace eStore. Use coupon code 2LU4EXJM to get 10% off
https://www.createspace.com/3569158 (Ships from USA)
This is a MamaBuzz review.  A sample of this product was provided by Village Life Books.  All opinions expressed within are my own.
0