What can you do with The Frame Creator and Wallpapers features of The Looney Tunes Scene & Sound Machine App?
I loved Daffy Duck growing up.  His lisp, his personality- I loved everything about him.  In fact, I thought I invented the word despicable for "people" after hearing him say it!!  Silly, I know.  But hey, I was 7.  Hard to blame me, right?  Since I did have a soft spot for Daffy then, and admittedly do to this day, my first choice for creating anything in this app is anything Daffy-related.  He's just so cute and silly!!  (And spitty…let's not forget spitty). 
The digital frame and wallpaper creator for this app offersLooney Tunes fans a way to see their favorite Looney Tunes character friends whenever they want.  Like Road Runner?  Meep Meep!!  You can have him on your wallpaper!!  You can also use the frame creator feature to frame a favorite photo- got an image of someone that you think would be perfect surrounded by Looney Tunes friends?  Load it into the app!  You can share what you create on Facebook, Twitter or by email as well.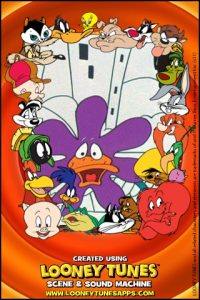 Download the Looney Tunes Scene & Sound Machine App from the iTunes Store here today: http://bit.ly/lbpx84 !
"I have been hired by Warner Bros. WBWord division to promote  The Looney Tunes Scene & Sound Machine Application."
0