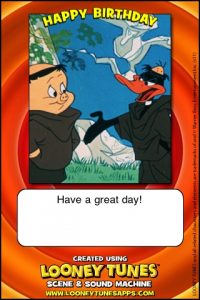 What can you do with The Digital Card feature of The Looney Tunes Scene & Sound Machine App?
You can choose from a variety of headers (main greetings), then add your own personalized message at the bottom in a text box.  There aren't a ton of options to choose from for frames or images but you can definitely use a Looney Tunes frame and add a personal image (I just didn't find one of my own images on my iTouch that I felt was working within the frame of my own so I used a Looney Tunes character image included in image library of the app!!)
I have a friend who is a big Looney Tunes fan so I made this card quickly to send over his way as a cute birthday greeting in his email inbox.  Since *I* always loved Daffy Duck I was very sure to include him in the card I made! 
I do hope there are more images and options added to these cards, and maybe some animation, because I think they could be a lot of fun to make and receive. 
Download the Looney Tunes Scene & Sound Machine App from the iTunes Store here today: http://bit.ly/lbpx84 !
 
 "I have been hired by Warner Bros. WBWord division to promote  The Looney Tunes Scene & Sound Machine Application."
0