I love apps.  Well, I really love FREE apps, but I also love playing around and having the option for the kids to play around with apps and games that are safe in content but allow them to be creative (or me) especially when we are stuck someplace like the doctor's office and there isn't a lot to do. 
What can you do with The Scene Maker and The Sound Board features of The Looney Tunes Scene & Sound Machine App?  Well, this depends if you get the free version or the paid version- I've tried both and obviously prefer the paid version, although you can do some cute scenes with the free version as well.  Its enough to keep kids happy.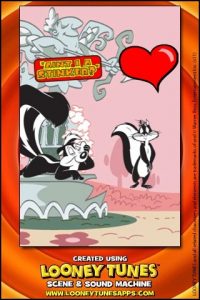 You can take favorite Looney Tunes characters, props, even signs, and make them into scenes and wallpaper to enjoy.  Have a friend who loved that "wascally wabbit" as a kid?  Make a scene for him and send it over via Facebook or email to make him smile!!   Since I'm a sappy girl and always loved Pepe le Pew, I just had to put him in a love scene!!
It was bound to happen—Daffy Duck's made an app out of himself along with his Looney Tunes costars! Yep, the first Looney Tunes app is here, making you the director of your own digital world via your iPhone. Choose from a cast of wacky characters with cool, colorful backgrounds and props at your fingertips. Amaze (and annoy) your friends with screwy voices and sound effects. Put your favorite character—you—into a Looney Tunes photo frame and share it with your friends. Email it or put it on your Facebook page. It's your world! And don't forget to watch the all-new The Looney Tunes Show on Cartoon Network!
Download the Looney Tunes Scene & Sound Machine App from the iTunes Store here today: http://bit.ly/lbpx84 !
"I have been hired by Warner Bros. WBWord division to promote  The Looney Tunes Scene & Sound Machine Application."
0