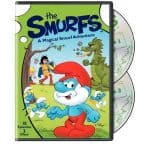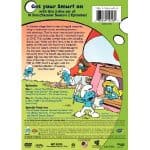 Get your Smurf on!!!!  I LOVE. LOVE, LOVE the Smurfs.  This is my all time favorite cartoon from childhood.  There is just something so endearing about the Smurfs in their little Smurf village.  Ahh, I just long for the times when this was the most violent cartoon on Saturday mornings. 
My love of all things Smurf has rubbed off on my two little ones.  It is such a treat when I let them watch a Smurf video.  Not only do I feel good about letting them watch these cartoons, but I love them too!
When I found out that Warner Home Video was releasing a new Smurf collection:  The Smurfs, A Magical Adventure, we were thrilled to review it.  I popped this DVD in on a Saturday morning and we couldn't turn it off until it was over.  I just love the hand drawn animation (none of that computerized cartoon stuff for me) and the story lines.  I even remembered some of the stories from my childhood.
This 2 disc DVD set comes with 10 original Smurfs episodes from the 80's:
10 "Smurftastic" Featured Episodes Include:

Smurf Van Winkle – Lazy is tricked into believing he's slept his life away.
Revenge of the Smurfs – The Smurfs try to get even with an army that's stormed their village.
Magic Fountain – The Smurfs search for a magic fountain.
Smurf Me No Flowers – Lazy is led to believe he has only a few days to live.
The Cursed Country – An evil master captures Smurfs to work in his diamond mine.
The Blue Plague – Brainy gives the Smurfs a meal that makes them feel like chickens.
The Ring of Castellac – The Smurfs return a drugged duke to his rightful place.
A Mere Truffle – Tracker loses his memory while leading the Smurfs on a truffle hunt.
Gormandizing Greedy – Greedy gains weight after a diet of sweets and desserts.
Sister Smurf – Smurfette and a young girl are held captive by an old hag.
And for those of you who are unfamiliar with the Smurfs, here's what they are all about:
"The Smurfs are a group of over 100 bluish, three-apple tall creatures who live in the mushroom homes of Smurf Village. They are led by 543-year-old Papa Smurf (who doesn't look a day over 530). Their lives would be perfect were it not for their villainous
Gargamel, a wizard who spends his days trying to capture them to eat, turn into gold, or for other evil reasons. Gargamel's cat Azrael adds to the menace, always looking for a tasty, Smurfy snack."
We thoroughly enjoyed watching this collection of classic Smurfs episodes.  I think it is great to be able to share something with my children that I enjoyed as a little girl.  The Smurfs are definitely a classic that the entire family will enjoy.  The story lines are unique and entertaining.  The Smurfs are a joy to watch!
 "Available in stores July 19, 2011, this delightful compilation stars everyone's favorite Smurfs, including Lazy, Brainy, Smurfette, Hefty, Clumsy, Papa Smurf, and others in a delightful set of adventures the entire family can enjoy together. The Smurfs: A Magical Smurf Adventure will retail for $19.97 SRP."
Don't forget that you can PREORDER this DVD collection on Amazon Now!
One lucky reader will win their own copy of The Smurfs:  A Magical Adventure!!
Mandatory Entry: Leave a comment with your name and be sure to include a valid email address in the comment form!
Extra Entries:
1.  Follow me on GFC, Facebook, Twitter or RSS/Email Subscription (+1 each)
2.  Share this giveaway on any social networking site (leave URL of your post please!! hint: right click the time stamp!!) #win a DVD #smurfs by @WarnerHomeVideo from @mamatomjr http://wp.me/p1qA6G-2p2 (can be done 2x day at least 1hour apart)2x/day at least 1 hour apart
3.  Visit Warner Home Video and tell me another item you'd like to try
4.  Leave a comment on any non giveaway post +1/post up to 5 comments
This giveaway will end on July19, 2011 at midnight, EST. US only. Winner to be chosen randomly. Winner has 48 hours to respond to my email or a new winner will be chosen.
I received a sample of this product to facilitate my review. All opinions expressed are my own.[ad#glam between posts]
0