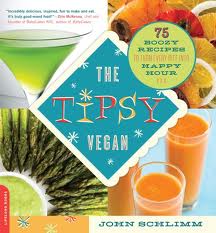 The Tipsy Vegan came to me at just the right time of the year.he book starts with some Plastered Party Starters such as Flaming Hot Peanuts and Brusc  The week between Christmas and New Year is always the best time to sneak in a couple extra happy hours.  I might as well have some fun adding some cheer to my recipes.  Thetta on a Bender.  The recipes are all easy to make, fun and vegan.  So, yes vegans drink and yes they actually like food.  There are 8 sections in all including Boozy Soups, Brunch Buzz, The Lush's Lunch and Drunken Desserts.  The recipe titles are all cute and silly but the recipes are tasty and well thought out.  This book would be a great gift for a vegan, vegetarian or omnivore.
I have several recipes bookmarked, Wild Rice Under the Influence, Spicy Sesame Noodles Tie One on with Peanuts + Basil and The Tippler's Hot + Sour soup.  These will all be washed down with a Hoochie-Coochie Margarita.
From the Publisher
The Tipsy Vegan: 75 Recipes to Turn Every Bite into Happy Hour
In The Tipsy Vegan, award-winning author John Schlimm brings together everyone's two favorite hangouts –  the kitchen and the bar — in one big love fest of unforgettable creations.  A member of one of the oldest brewing families in the U.S. and author of the largest beer cookbook ever published, John knows a thing or two about boozing up his food.  From this son of a butcher who came out on The Ellen DeGeneres Show as a pro-meatless, pro-vegetable loving kind of foodie, The Tipsy Vegan will showcase 75 recipes using favorites from the bar circuit — wine, beer, vodka, et al. — as key ingredients.
Running the gamut from appetizers, soups, salads, and sides to main dishes, desserts, and, of course, cocktails, this buzz-worthy tome will help readers to always have a blast, whether preparing for a houseful of guests or a party for one. It is John's goal with The Tipsy Vegan to once and for all give vegans and food lovers from all walks of life the ultimate excuse to chow down with a never-ending buzz of laughter, friends, and, especially, great food!
About the Author
John Schlimm is the award-winning author of eleven books on cooking/entertaining, history, how-to, and fiction.  Read more about John Schlimm on his webiste HERE.  You can also follow him on Twitter.