Focus Features, the creative minds behind The Boxtrolls movie, set to open in just a week (eek!), has partnered with the Imagination Foundation. The mission of the Imagination Foundation is to find, foster and fund creativity and entrepreneurship in children around the world.

Focus is working with the Imagination Foundation to sponsor a Boxtrolls Cardboard Challenge, where kids can create and build crafts inspired by the movie, using cardboard boxes as the main resource – just like the Boxtrolls themselves do. The partnership is twofold – there is a contest encouraging kids to create their own crafts out of cardboard boxes for a chance to win prizing (must submit via social with a custom hashtag, details below). Secondly, there will be events hosted across the country, where participants can attend and win "What's in the Box?"-themed packages at hosted events (a list of cities, dates and times for the hosted events in the Boxtrolls Cardboard Challenge can be found at http://www.focusfeatures.com/the_boxtrolls/events)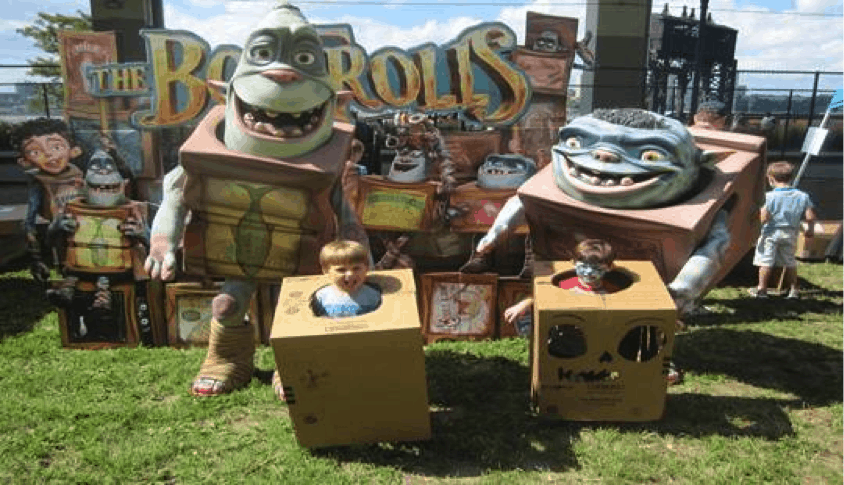 Imagination Foundation Event Dates:
Boston, MA: Saturday 9/20 from 11am-3pm at the Framingham Food Truck Festival

Cleveland, OH: Saturday 9/20 from 11am-2pm at SouthPark Mall
Salt Lake City, UT: Saturday 9/20 from 12pm-3pm at Station Park Mall in Farmington
Kansas City, MO:  Sunday 9/21 2pm – 4pm at the Science City at Union Station
Minneapolis, MN: Sunday 9/21 from 1pm-3pm at Mall of America in the Sears Court
Austin, TX: Sunday 9/21 from 1pm-3pm at Givens Recreation Center from 1pm-3pm
Baltimore, MD: Sunday 9/21 from 2pm-4pm at the Port Discovery Atrium
Philadelphia, PA: Sunday 9/21 from 12pm-3pm at Franklin Mills Mall
Raleigh, NC: Sunday 9/21 from 1pm-4pm at the CenterFest Arts Festival (in the Kids Zone) in Durham
Pittsburgh, PA(9/21) : Sunday 9/21 from 12pm-3pm at Carnegie Science Center
San Diego, CA: Sunday 9/21 from 10:30am-3pm at the San Diego Padres game against the San Francisco Giants at Petco Park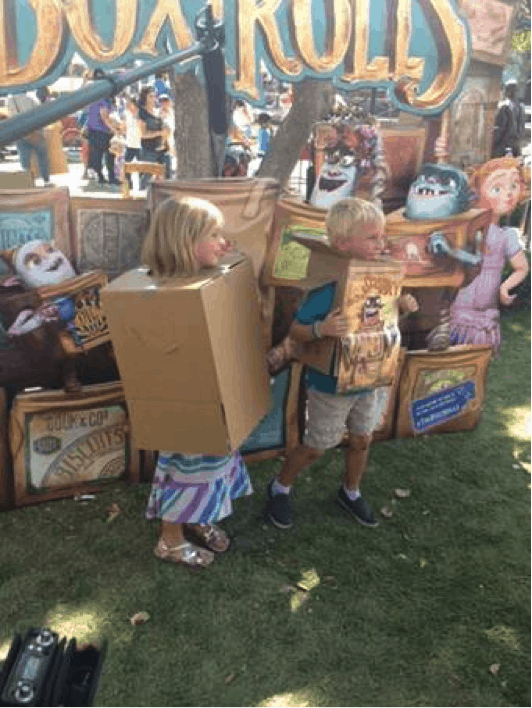 Doesn't this look like SO  much fun? Can't wait to attend a local event. I want to meet a Boxtroll in person! My kids will be very excited to create more Boxtrolls and enter the Cardboard Challenge- I hope you enter too! 
Contest

The Boxtrolls Cardboard Challenge takes place from  8/25-9/29- so we all have a little while longer to get our boxes on!

How to enter the contest:

Participants can share their creations via Twitter or Instagram by tagging their photos with the hashtag #TheBoxtrollsCC to enter

Prizing

Grand Prize: one (1) Grand Prize winner will be picked on September 29th and receive an "Imagination Box" for creative play, including an Apple iMac, an iPad Air, Microsoft Office, The Print Shop and Kid Pix softwares, a $500 DiscoveryStore.com gift card, and a $1000 Michaels Arts & Crafts gift card.

Remember, The Boxtrolls movie opens September 26 in theaters everywhere. We can't even wait to see it- and the crafts and challenges we've been doing for this movie all summer have been such a great experience for the kids and I.
Which Boxtroll would you want to meet in person? 

This post is brought to you by Focus Features.  Opinions are my own.