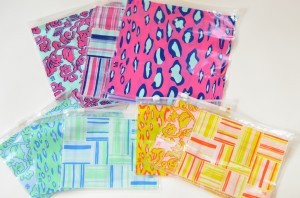 Here at This Mama Loves Her Bargains, we are always on the lookout for cute, fun, creative AND environmentally friendly products. Well, we've got a great one for you today.
Tili Bags
. These things seem to be popping up everywhere, and for good reason. They're fantastic! I first saw these bags while I was perusing an issue of InStyle Magazine at the salon. The flashy colors instantly caught my eye.
Let me tell you a little bit more about Tili Bags:
1. These are plastic storage bags with zip top closures
2. They are made out of a thick plastic (much more durable than your typical plastic storage bag)
3. The bags come in 3 color schemes: Purple, Blue and Orange/Yellow. Each box of bags comes with 3 different patterns.
4. Each box contains 12 Tili Bags.
5. These bags can easily be washed and rinsed, so they can be used over and over again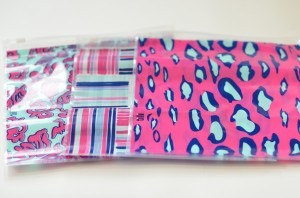 Wow, where to begin. These bags are so versatile. They can be used for makeup, general organization, snacks and camp gear. Each bag has a section for labeling, making them the perfect camp solution. Not only will your child's belongings/snacks stand out from everyone else's, but you can label them and use them over and over again. Simply rinse them out at the end of the day and use again. I have used them on picnics and for packing swimming gear. They have proven to be very durable after multiple uses. I can easily recognize my items and nothing gets lost in the shuffle.
Tili bags are being sold on the largest summer camp supply company website in the country (as well as in select retailers in CA, WA, NM, CO, TN, GA, TX and FL)
Tili bags have recently been featured in several magazines:
*Redbook lists tili bags in its 50 products under $50.
*Rachael Ray picked tili bags as an everyday fave!!!
*Also seen in InStyle
If you are looking for a stylish and unique way to tote summer essentials and for organizing around the home, Tili Bags are the way to go. They come in fun, funky patterns and colors and can be used over and over again. We just love these bags and use they all over the house!
Tili Bags have become a camp and picnic essential in our house. My little ones just love picking out their own color and pattern for the day, and they feel extra special that they have their very own designer bag to take with them.
Follow Tili Bags on f
acebook
for the latest on product information and promotions.
Tili Bags retail for $8.49 for the gallon sized bags and $7.49 for the quart sized bags. They can be purchased here
online
.
I received a sample of this product to facilitate my review. All opinions expressed are my own.