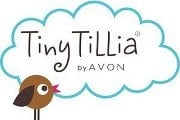 We all know and love Avon products, but did you know that they also have a line of baby products?  Tiny Tillia offers a wide range of baby products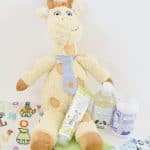 including:  bathing supplies, clothes, toys, diaper bags, nursery decor and toddler items.  I love how fresh and current their styles are.  Their items are unlike others on the market.
I was thrilled to try out a variety of the items Tiny Tillia has to offer on my 6 moth old baby.  It was so fun to peruse the Tiny Tillia site and pick out items.  Many of their items are gender neutral, which is so appealing to me (it's so refreshing to see a company do away with blatant gender labeling with baby clothes and toys!).  All of the products on this site and so sweet and babyish.  Here's a list of what I tried out:
16″ Sherpa Plush – Ben Giraffe $18 –  This plush animal is soooo soft and cozy.  I'll admit that we have about 500 stuffed toys, but this one is so adorable.  All of my kids love playing with Ben the Giraffe.  My husband just loves that he comes with a little blue necktie.  Very sweet.
Tiny Tillia 3 piece gift set – $15 – Includes Citrus Sorbet Shampoo and Body Wash, Berry Sorbet Calming Moisturizing Lotion and Diaper Rash Cream.  These items are a hypoallergenic and great for sensitive skin.  They worked great in my baby's bath.  The products left his skin clean and smooth.  The Citrus Sorbet scent was really pleasant as well.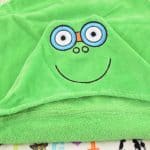 Duncan Dog Bath Mitt – $5 – This little bath mitt is a great addition to any bathtime.  I used this on my toddler and he thought it was great fun!
Trace Frog Hooded Bath Towel – $16 – This hooded bath towel is made with a really nice absorbent cotton.  It is sized great for a baby or small toddler.
Blue Growing Bodysuit – 3 size pack – $14 – This pack of 3 onesies come in really nice shades of blue, with cute birds and stars design.  This creative set includes onesies in 3, 6 and 9 month sizes to grow with your little one.  I just loved the shades of blue in this set.
Blue Gingham Bib – $7 – This is one adorable bib!  Blue and white gingham pattern with a sweet yellow bird on the front.  The closure is sturdy velcro.  I love that this bib can be personalized.  This would make a really great Easter gift.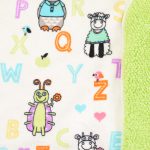 ABC Green Gift Blanket – $18 – This soft blanket is generously sized at 30″x40″.  One side has a print of the ABC's and Tiny Tillia playmate characters, while the other size is a cozy sherpa material.  I use this blanket as a playmat on my hardwood floor.  It works great for tummy time!
I really enjoyed trying out this new line of baby products.  I found all the items to be quality, and the designs were so refreshing and unique.  The tiny tillia playmate characters are found throughout their line of products, making them recognizable to little ones.  My kids love that their beloved Ben Giraffe toy is also featured on the sherpa blanket.  All the items are generously priced, making this a great option for baby showers and new baby gifts.  You could put together a great gift basket for a really terrific price.
One of our readers will win their very own Tiny Tillia Gift Pack!!!! (Items included will be similar to those in this review, depending on availability and gender).


a Rafflecopter giveaway

"Samples of these products were provided to facilitate my review.  All opinions expressed are my own."
0