Tips for Keeping a Fresh Cut Christmas Tree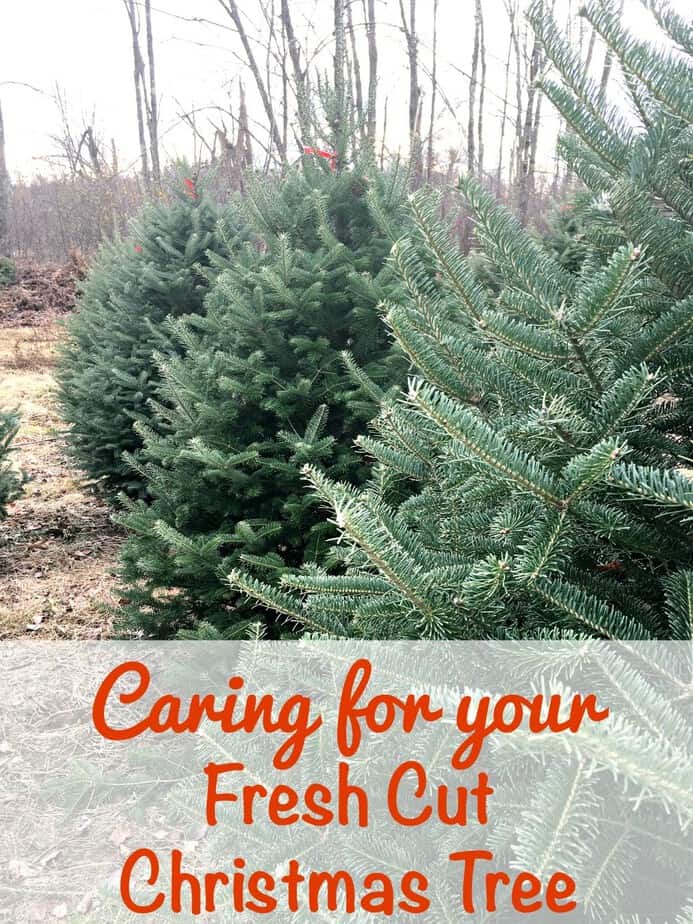 This is a sponsored post written by me on behalf of Christmas Tree Promotion Board.
Christmas to me is about traditions, memories, and shared time with family and friends. One of my favorite traditions has always been choosing the tree for our home. I remember as a little girl, we lived in a Victorian home with 12 foot ceilings. My mom ALWAYS chose enormous trees, ones that filled the curved turret of the living room and more often than not, broke the glass in the storm door as we brought it into the house.  I can also remember the colorful comments my dad muttered as he swept broken door glass yet again- but I know he loved those trees as much as we all did. The tree wasn't big so we could be showy- it was big so it would fill the room with that wonderful aroma of a Christmas tree, paired with twinkling lights and dozens and dozens of ornaments that often captured special moments or memories for someone in the family.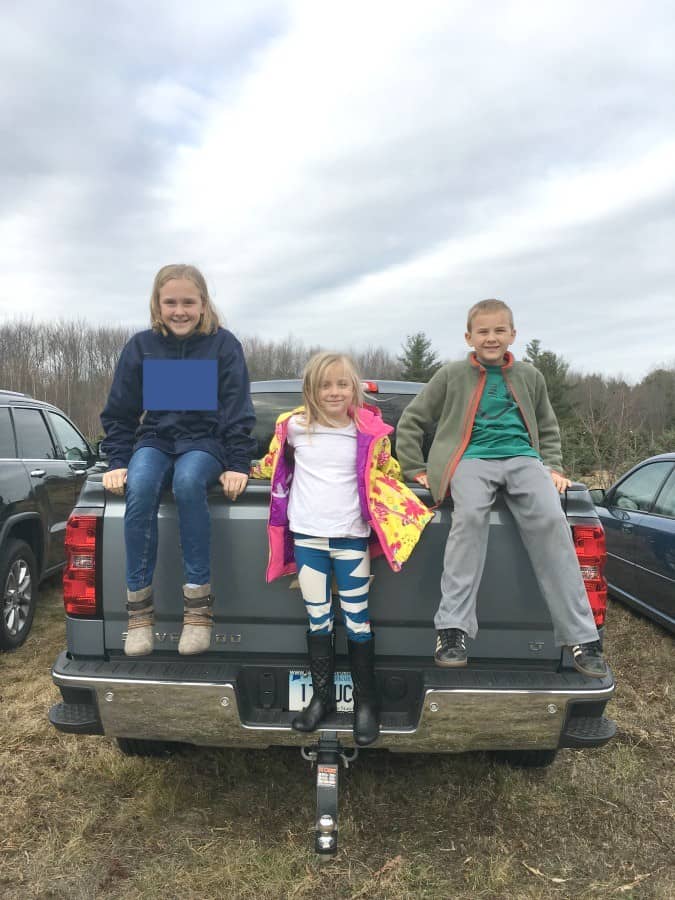 Now, I head out with my own little family to choose our family tree. We headed a little further away from home this year and found a tree farm with the fattest trees I've seen in a really long time, much to my delight. We call them "plumpy trees".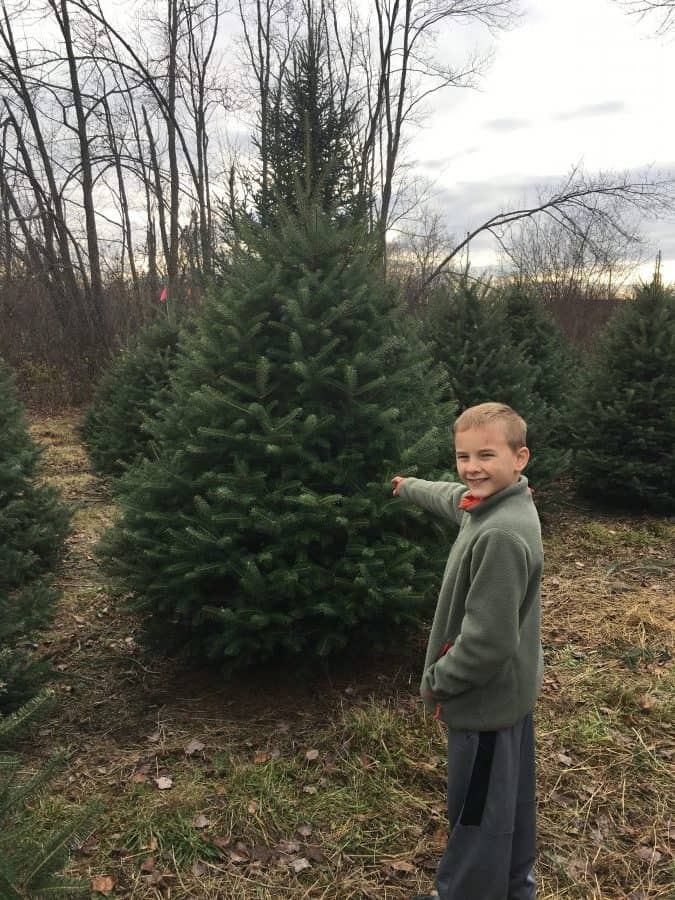 Whatever you call them, they are wide, full Christmas trees and we had so much fun choosing the tree, cutting it down (rumor has it that the oldest child will be allowed to help cut it down next year) and heading home with it to decorate. One of the best parts about visiting tree farms is the "extras" you will discover- handmade wreaths, kissing balls, swag for doors…maybe even hot chocolate and a tractor ride- and if you're lucky, maybe even a candy cane!

I was delighted to have a pickup truck that we could pop the tree into- no wrapping of the tree meant no waiting to decorate until the branches settled!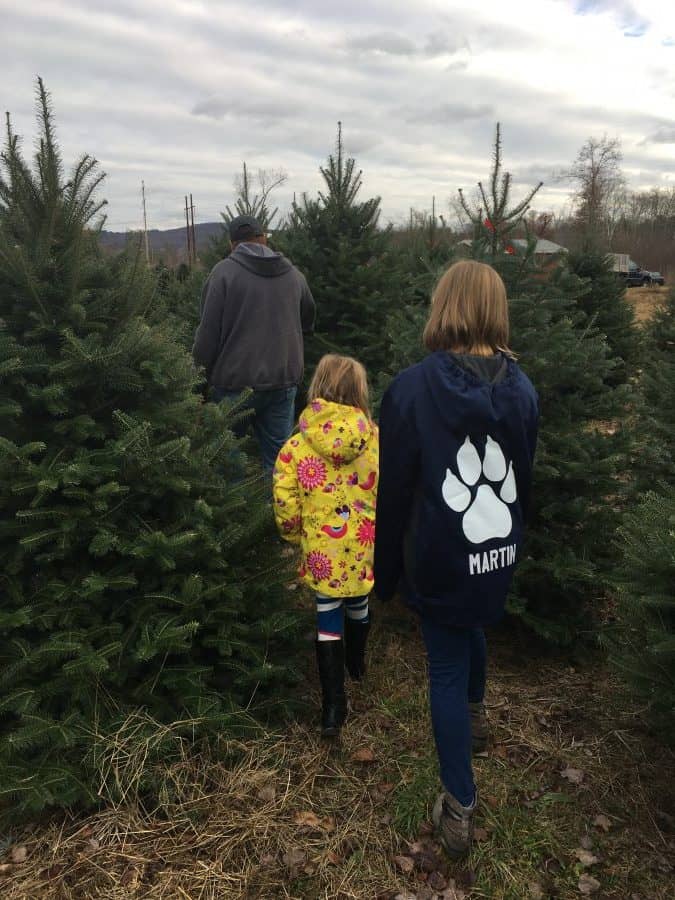 I have a lot of ornaments for our tree and I add more every year. Not to be excessive, but because we add memories each year. Plus, the kids' school does this cool fundraiser and we can get the kids' art on an ornament, so each year I order those, with the idea to send them off with the kids as they leave home as adults.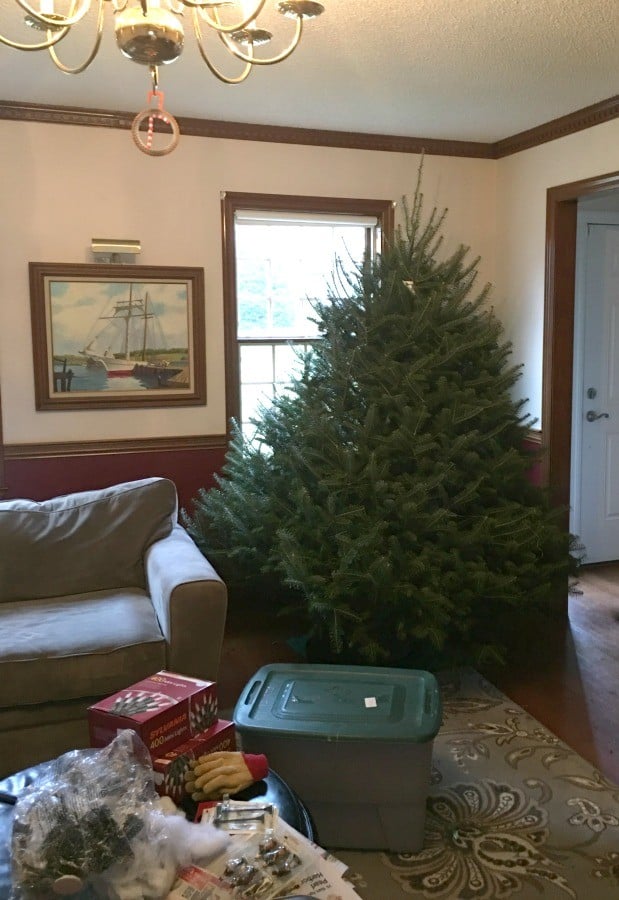 Decorating the tree is a treasured tradition for me. Christmas music playing (No offense, mom, but we don't play all of the same music you did…), hot cocoa in holiday mugs, and shared memories as we tell the stories of ornaments rediscovered each year. The very worn 20 sided paper origami ornament my sister Debbie made as a teen (which I've not yet found since moving, but I know there's a box of ornaments in the basement…somewhere)….the many ornaments that adorned packages from my mom, for so many years she'd make 20 of the same so we'd all have one to add to our trees. The mittens my niece Erica made from paper, strung together with a piece of yarn…cut out by a four-year-old's hand almost 20 years ago. Or the ornaments we've purchased on family trips- glimpses of memories, shared together or shared aloud with stories….the tree and decorating it are just such a special thing for me, and the most I can hope is that I'm passing those beloved traditions to my own kids. You can see that our tree is far from perfect. If it had a theme, it'd be eclectic for sure. The only rule I have is that fragile or breakable ornaments go up top, hung by an adult. The rest? Anything goes. I LOVE IT.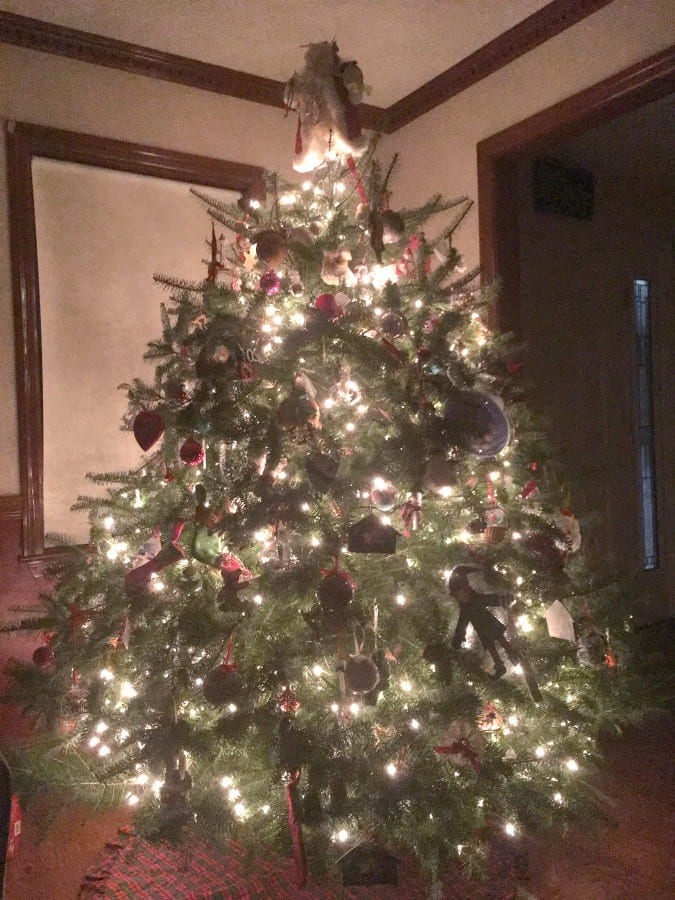 Of course, with a fresh cut tree comes some care requirements. (We like to include the kids in the care- it's good for them to learn a little responsibility and good for them to know as they grow up anyway!).
A fresh cut Christmas tree in your home should be a blessing and not a curse. I have always loved fresh trees in our home. However, sometimes they do not keep! I have learned a few tricks along the way. Keep your tree fresh this year by following these tips!
Make sure the tree you choose is healthy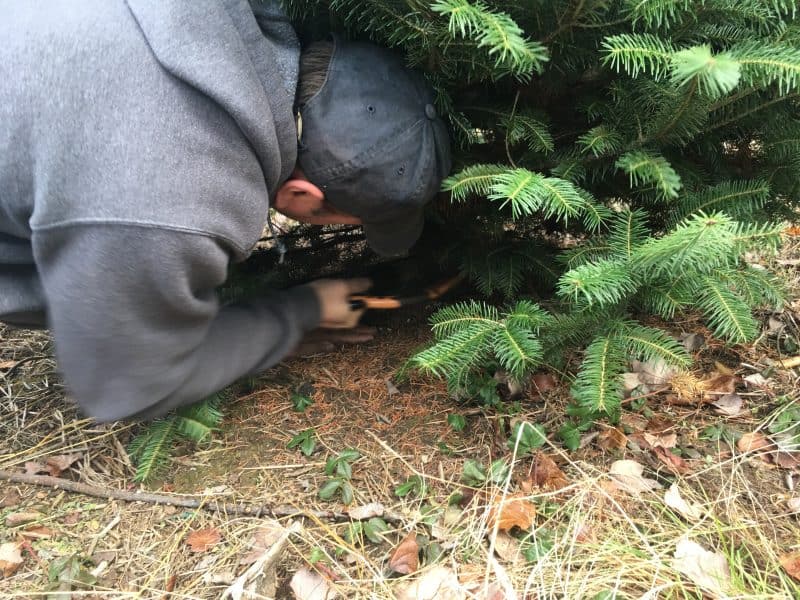 When you want a fresh cut tree, it's important to choose a healthy tree from the get go. From experience, choosing a tree that has a few brown needles is okay. You just don't want to choose a tree that has all brown needles. A quick inspection of the tree will help you decide if it's a decent tree or not. We like visiting local tree farms because we get to see the trees unwrapped and can see all angles of the tree before selecting it. Plus, since you are choosing and leaving with the tree you get, you are in full control of the care of the tree, and with easy care, you can keep that tree fresh for the whole season.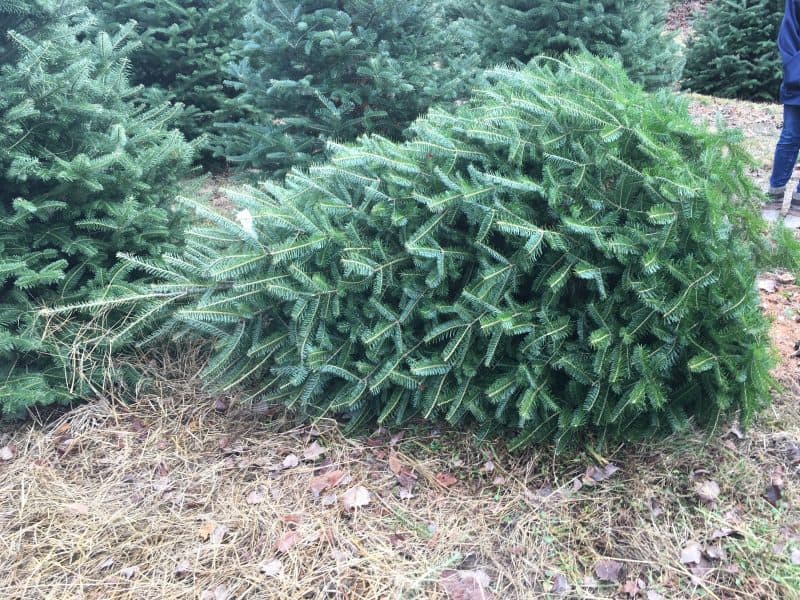 Keep the water at a decent level
I know that it can be so hard to remember to water your tree. However, it's vital to keep the water at a good level. Your Christmas tree thrives on water to stay alive! Every couple of days, check on the water content of your tree! Just set a reminder on your phone to check it (right before you move your elf each night…)!
When done with your tree, recycle
A real Christmas tree is much better for the environment. Not only can they be recycled (yep, recycled, check with your town or city to find out about programs offered!), they are carbon neutral; absorbing as much carbon dioxide during growth as they will emit when disposed of! In addition to this, for every tree we cut, the Christmas Tree Promotion Board states that 1-3 more are planted in its place! I love knowing that more trees are planted…I find them so beautiful and love seeing tree farms when we're driving around year round.
The 
Christmas Tree Promotion Board 
is a national research and promotion program whose mission is to share the benefits of fresh Christmas trees with consumers. This year they are doing this through a campaign that encourage families across North America to "Keep It Real". We "Keep It Real" because we love the traditions, the memories, the scents, and yes, even the mess that comes along with keeping it real. I wouldn't want Christmas any other way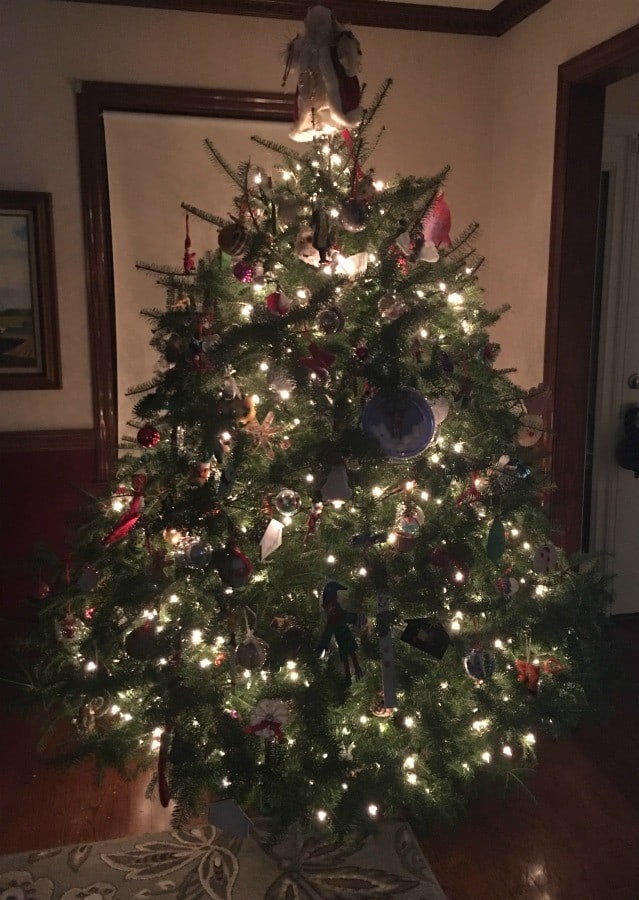 How do you keep a fresh cut Christmas tree in your home?
This is a sponsored post written by me on behalf of Christmas Tree Promotion Board.