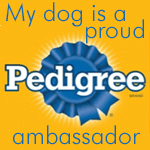 Tobey is our canine family member.  He's 10 years old, a yellow lab mix, and the sweetest dog in the world.  He might also be the friendliest!!  Tobey is going to be trying  PEDIGREE® Adult Complete Nutrition for Dogs
for the next 6 weeks and I'll be sharing the results of this change with you over the course of a few posts.
We assessed Tobey based on Four Universal Needs: Skin&Coat (average), Oral Care (average but horrible doggie breath), Digestion (1-2 per day, normal), Immunity (very rarely).  Tobey's pretty much always been right on target or within normal range for everything since we brought him into our family.  He's just a love of a pooch and thankfully nothing very 'exciting' has happened in his years with us, with the exception of a few issues with dewclaws that were since removed.
We are  on day 2 of introducing the new food slowly, but he's been eating as normal so I have to say, its a smooth transition so far!  Right now we're doing 1/4 of his food as the Pedigree and the rest his normal foods.
We've not used Pedigree brands before but I've heard good things about it, so I was ready and willing to give this a try.  Tobey's not got a sensitive stomach so I am not concerned he'll have any kind of issue.
When I opened the bag of Pedigree food, I noticed that the color of the food looks much more natural to me than the brand we've used for a few years.  This made me feel good about trying a new brand.  The pieces of the food themselves aren't too big nor too small- they seem to be just the right size for a medium/large dog like our Tobey boy (he's about 53lbs). I like that the kibbles are X shaped to help with oral care.  I like the whole grain ingredients and vegetables included in the formula.
Tobey hasn't seemed to really notice anything different with his food to date- although its only been a few days.  Like I said, he's always been pretty easy going and hasn't had any sensitivity to foods so I'm confident he'll do fine with the Pedigree!
Save $3.00 on Pedigree Dog Food!
Check out the  Pedigree Adoption Drive Facebook page
"I wrote this review while participating in an Ambassador campaign by Mom Central Consulting on behalf of Pedigree and received dog food to facilitate my reviews and a promotional item to thank me for taking the time to participate."
0