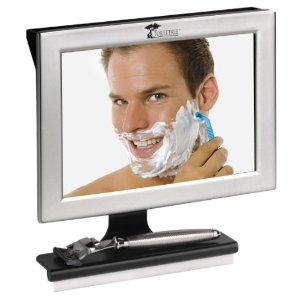 ToiletTree Products has taken their Original Fogless Shower Mirror and turned it into a "Deluxe Version". This transformed mirror is now 20% larger than the Original Fogless Shower Mirror. The entire outside of the mirror is illuminated by LED lights. Look your best by taking care of your face in your shower. This patented mirror is guaranteed not to fog in the shower. No more suction cups falling off the wall! Our removable, soft silicone adhesive secures the mirror to all shower surfaces and will not damage tiles or shower walls! The mirror conveniently detaches from the bracket so you can easily fill the reservoir before each use. An included self-stored squeegee removes any excess water from the front of your mirror. An adjustable frame makes the mirror accommodating for multiple users and angles. The combination of heat and moisture open the pores and creates an ideal environment for shaving, exfoliating, tweezing and cleaning.
Features include:
-LED Illumination with 2 light settings. (Batteries Included)
-20% larger then original mirror for easier viewing.
-Shatter proof high quality acrylic mirror that adheres to virtually any wall surface with removable silicone adhesive.
-Easily adjustable bracket accommodates multiple users and angles.
-Built in shelf to store your razor, sponge or tweezers.
-NEW & IMPROVED squeegee included to wipe away excess water drops.
-Measures 9.5in x 7.5in x 1.5in.
Don't forget to follow ToiletTree Products on Facebook and Twitter.
My Thoughts:
My husband has loved helping me review this fogless shower mirror, as he says he is getting a smoother and closer shave, while in the shower. If he waits to shave after getting out of the shower, his skin begins to dry out, and that is when he is more prone to nicks and cuts.  And, as soon as he is done shaving, he doesn't feel like he has gotten a close shave, as stubble is still left behind.   And, as the one who cleans the bathrooms, what I like best about this LED fogless shower mirror, is that I don't have to spend unnecessary time and energy cleaning up the bathroom sink and surrounding area, as my husband always leaves his shaved whiskers all around.  Oh, do I hate walking in the bathroom after he is done shaving, only to see his shaved hair all around — gross!!  Now, he can shave in the shower, and the hair washes away down the drain.   Who knew that this LED fogless shower mirror would benefit both the husband and the wife.  I am loving not having to clean up any more after him!
In addition, I have also found this fogless shower mirror to work for me as well, in regards to grooming my eyebrows.  It is less painful after showering to pluck stray hairs, but I always wished I could do it in the shower, while I was conditioning my hair.  Now, thanks to this mirror, I can multi-task and tackle my hair and eyebrows at the same time.  This leaves me with a few more minutes to enjoy a hot shower, before returning to being mom on duty, and tending to my two daughters.  What mom wouldn't want a few extra minutes in the shower? I sure would, and now do!

This LED fogless shower mirror is easy to install and will not damage your shower walls when removing.  You simply apply the silicone adhesive included in the box.  You have to let the frame set with the silicone for 24 hrs. prior to attaching the shower mirror and begin using.  But, after this step, you are good to go.  The only thing I want to you understand is that you need to fill the reservoir found at the top of this mirror with hot water prior to showering.  If you don't, or use cold water, the mirror will fog up on you.  The hot water acts as a neutralizer between the mirror and air temperature, eliminating fogging.  It took a few tries in the beginning to keep this LED fogless shower mirror from fogging up. My husband thought it was broke, or didn't work, until I read the directions, and added hot water to the reservoir.
So, with Valentine's Day right around the corner, why not surprise your husband or boyfriend with an LED fogless shower mirror from ToiletTree Products?  You'll both love using this fogless shower mirror to tackle shaving, tweezing and facials in the shower.
—BUY NOW—
You can buy this LED Fogless Shower Mirror from ToiletTree Products at Amazon for only $49.95.
Disclosure:  I was sent a sample from the vendor in order to write up an honest review.  The views above are mine and mine alone.
0