Hey, look! It's January!! Time to start a fresh year, a clean slate, a new calendar.  Time to MAKE YOUR NEW YEAR'S RESOLUTIONS.
Except I have a little tiny problem.
I didn't do the resolution thing this year.
I kind of conveniently forgot.   Probably someone trained in psychology would call it "avoidance" but whatever.  I didn't resolve.  Or re-resolve.
I can't. I know myself, and I won't stick to it.
But my resolutions are still here.  They are not going anywhere.  I'm on the slow and steady pace to win the race of resolutions.  My resolution is a "big picture" kind of thing.  I want to grow old. I want to stick around this world long enough to watch my kids get married, and maybe have their own kids, and spoil those hypothetical most-adorable-grandbabies-in-the-world to death.  The path I was on a year or so ago, was not the path to seeing my dreams come to fruition.  No exercise, crappy eating habits, and depression=fat, unhappy and unhealthy mom of three young children who were learning what they lived.
Fast forward to now.  (Remember, I'm on the SLOW and steady pace. I'm human, mmmkay?  There's no superhero cape on my back).  I'm still pretty fat.  But I'm way less fat.  I still make crummy choices with junk food (if chocolate didn't exist I might be skinny)…BUT…
…lots of times, I grab a string cheese (low fat), an apple, some carrots, sugar snap peas.  I keep my water bottles full of water and ice (why is water better when it has melty ice in it?) and not soda. I even have ventured into watering down fruit juices and have tried Trop50 drinks (more on that below).
I exercise.  For a long time, that included parking further from the door when we went someplace.  Then I decided I'd do Jamie's Run in November.  So I started the Couch2 5k program.  The first 24 seconds in, I knew I made a terrible mistake.  I was almost hyperventilating.  Every muscle in my body was screaming "What the H-E-doublehockeysticks are you THINKING, woman? GET BACK ON THE COUCH!! EAT A COOKIE!" but I kept going. Every other day for 9 weeks, I grabbed my iTouch and headed out.  I hated it…I dreaded it.  Especially week 4.  As if that first day wasn't bad enough, week 4 was like a whole fresh hell.  But for some reason, this time, (as opposed to the eleventy million other times I've tried to run or jog in my life)- well, I kept at it.
People say "oh, I love to run. It just clears my mind and is such a great stress relief." I'm sorry, but I'm not sure what they speak of.  My mind is full of "OMG is it time to stop…can I walk…did I go far enough yet? I HATE THIS I HATE THIS" the entire time I go.  Until I finish my goal for the day.  Then I'm all "Look at meeeeeeeeeeeee I just ran!!" and all pumped up to do it again (by the way, when you are not in shape, and feel this way, DO NOT go out and try for a second round of it that day.  It's not a good idea.  Trust me).  I still don't like to run.  But I think around week 6 into the program, I kind of realized that maybe I didn't despise it as much as I once had.
On November 20, 2011, I did my very first 5k.  Jamie's Run. Me.  Not only that, but I did it pushing 25 lbs of cute in a jogging stroller.  Yes, yes I did.  I didn't even finish last.  (There were totally 2 girls behind me and I'm pretty sure they stopped to get a mani/pedi to make me feel better about being slow).  But I did the entire 5k.  No walking.  Not once. I didn't stop.  I wasn't fast, and it sure wasn't pretty, but I did it.  Me.  A year ago?  There's not a chance I'd have done that.  No way.  (In fact…I'd tried to do that as a walker and didn't finish the previous year).
So guess what this girl did on November 24th?  I did the Manchester Road Race.  4.74 miles and a full mile at the beginning is all.up.hill.  (Listen, I've not totally lost my mind!! I walked the hill.  Do you not know me at all?  It's a BIG hill).  I wasn't fast, and it sure wasn't pretty, but I did it.  That little feat was major. Major like I've always had it on my bucket list to run the road race on Thanksgiving day.
This year, in 2012, I'm doing those 2 races again.  I think I'll try to do maybe 2 others.  That's it.  I'll also keep working on the healthier choices in my snacks.  I'm slow and steady, remember?  I'm still not thin (I'm ok with that, but I have a ways to go before I'm happy with how I look and feel) but you know what?  I'm making progress towards that goal of being an old lady and sticking around a very, very long time!!
Thanks to Trop50, I got to try a new kind of OJ- Trop50 Orange– which is a very special treat in the Bargains house.  I liked the taste well enough – I'm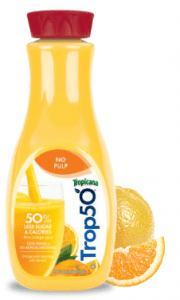 happy enough to drink or not drink OJ- but my kids?  They LOVE OJ.  Not one of them even noticed a difference in taste from regular Tropicana.  THAT speaks volumes.
I also got the Trop50 Lemonade this week for a treat for New Year's Eve for the kids and I.  Oh my goodness.  Delicious.  You can't even tell it has less sugar at all- again evidenced by no one noticing it was anything different- and *I* love, love love lemonade and didn't notice a difference.  Less sugar and less calories=less of me, right?  Thank you Trop50 for making delicious and better options for those of us who love sweet!!  I am anxious to find and try the Raspberry Lemonade (did you know that Trop 50 comes in EIGHT varieties??)
Tropicana® Trop50® delivers the goodness of fruit juice with 50 percent less sugar and calories, and no artificial sweeteners.
Trop50 True Resolutions celebrates the real reasons behind New Year's resolutions. Share your secret motivation and you'll earn a coupon for $1 off Trop50 for yourself and 50¢ off coupons for up to 50 of your friends. You can even submit incognito with a fierce disguise. Bonus: Whether you submit a resolution or not, you can also enter a sweepstakes to win a $1000 gift card.
Don't forget to visit Trop50 True Resolutions to share your secret motivation and earn a coupon for $1 off Trop50 for yourself and 50¢ off coupons for up to 50 of your friends. You can also enter to win a $1000 gift card. I was selected for this Tropicana Trop50 sponsorship by Glam Media. I received compensation to use and facilitate my post.
Disclosure: Compensation was provided by Tropicana® Trop50® via Glam Media.  The opinions expressed herein are those of the author and are not indicative of the opinions or positions of Tropicana® Trop50®
0