My friend's 5 year old daughter was recently told that due to food sensitivities and allergies, she needs to be eating gluten and dairy free.  Her sister who is just 18 months older than she is does not have any issues with dairy or gluten and this presented a whole new set of challenges for my friends.  Knowing there are more and more people every day who need to start eating a gluten free diet, I wanted to help my friends be able to discover some new and delicious gluten free products and also help share their experiences so that perhaps one of my readers will benefit as well.  There are so many more options available now than there were even 5 years ago for gluten free foods, but many of those options simply don't taste great or are very very expensive.  (Yes, I have heard the argument that you cannot put a price on your health, but for the majority of people I know, budget restrictions are very real and can be very prohibitive).   Today I'm going to share with you about Udi's Gluten Free Foods.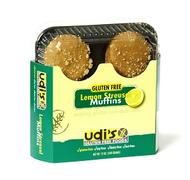 So.  Udi's Foods was generous enough to send my friends a box of their products to try. Lemon streusel muffins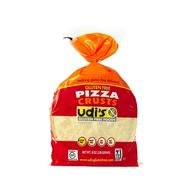 (which I have tried myself and let me tell you- you know how many gluten free and also many diet foods, you have to warm up their baked goods for them to be any texture besides rock-hard? These muffins are divine without warming. The people at Udi's don't mess around and work hard to provide a good, tasty product.)- cookies- bread bagels, cinnamon rolls, granola and PIZZA Crust.  Yes, pizza crust.  I think that was almost  a bigger hit than the cookies- being able to enjoy pizza with the family is bound to make any 5 year old happy (I can't think of many 5 year olds who don't love pizza) and that was huge for her, especially since she's old enough to remember what "regular" pizza crust, bread, bagels, etc taste like.  She really likes the granola, too, and was happy to have "plain" sandwiches on the bread.  The only thing that didn't get a huge thumbs up from Miss M were the hot dog rolls.  For whatever reason, she's just not liking them.  But I think for a picky-ish 5 year old sampling several products from a brand and only not loving one is a pretty great track record!!  I can't wait to see what Udi's comes out with next.
Be sure to check out the Udi's site- they have lots of great recipes for all meals and snacks/desserts, plus a special offers sections (hello, coupons anyone?!)
One of my readers will win an Udi's Gluten Free Foods Prize Pack that includes whole grain bread, lemon streusel muffins, cinnamon rolls, and vanilla granola.



Samples of this product were received to facilitate this review. Opinions are my own.