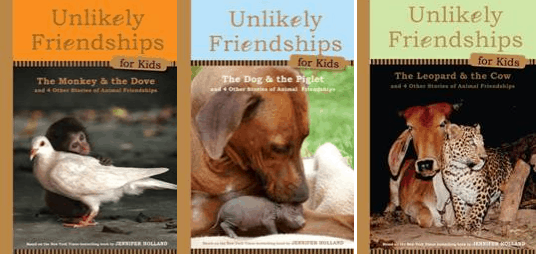 If you have a kid who loves animals, I have an awesome series for them to enjoy.  Sweet stories, adorable animals, and stories of friendship will grab your child's attention.  We've been reading these books at bedtime with all three of my kids for weeks now.  They adore them, I adore them.  Simple and sweet, and a nice way to wind down the day. Jennifer Holland originally wrote a book about Unlikely Friendships after finding a PufferFish swimming in a school of Sweetlips a few days in a row while snorkeling on vacation….and now she's written three more books, geared toward the younger crowd.  Stories of acceptance and friendship- sweet, simple, and very well written, and all about animals.  She's got a nice formula for success!  I don't know a kid who isn't a fan of animal stories- and these books are perfect for them.
UNLIKELY FRIENDSHIPS FOR KIDS by Jennifer Holland, who also penned Unlikely Friendships.  The same heartwarming and awe inspiring stories from the original have been rewritten in large print and shorter sentences that can be easily synthesized by young readers. The chapter book formats are perfect for reluctant readers and a must-have for any reading list.
The books are for kids ages 7 and up, but they will be the new go-to bedtime story to read with little ones as well. At the back of each book, an Animal List features black silhouetted pictures of the animals in the stories along with a brief description of the animal where it lives. A Word and Phrase List offers definitions of difficult words throughout the books. This is especially helpful with young readers and gives them a sense of independence to not have to ask a parent each time they get stuck on a word or wonder about an animal in the stories.
The Unlikely Friendships for Kids books are available from most major book retailers in store and online, for about $5.95 to $7.95 each.  They're a great gift idea for any occasion! I also noticed that Workman Publishing has a Unlikely Friendships wall calendar available for 2013.  I would love to hang these animal friends on my wall all year!
 Workman Publishing would like to send one reader all three Unlikely Friendships for Kids books!
Loading Entry-Form…
…
Samples of these books were sent to facilitate review.  Opinions are my own.
0