It's not every day that I enjoy a little adult beverage. Cocktails are an occasional thing for me not a regular indulgence. But every so often, I do enjoy a little something. These Valentine's Cherry Strawberry Screwdrivers my friend Derrick came up with are so amazing (and you can make them a mocktail, just skip the alcohol!) and really quite festive. We're not big into celebrating Valentine's Day, not in the traditional sense, so sipping on a fun and fruity something while watching a movie (as is usually what we do) is totally something I'm looking forward to.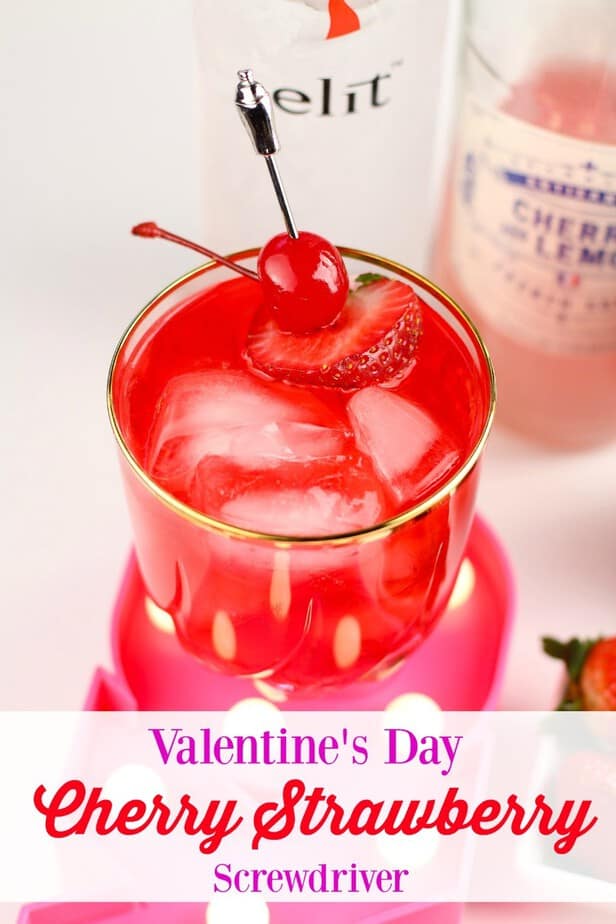 Valentine's Strawberry + Cherry Screwdriver
Ingredients:
1/2 oz Maraschino cherry juice
1/2 oz strawberry syrup
1 oz vodka
3 oz cherry lime Italian soda
Directions:
In a cocktail shaker add Maraschino cherry juice, strawberry syrup, vodka, and ice.
Secure the lid on the cocktail shaker and shake vigorously for 30 seconds.
Strain into a cocktail glass filled with ice.
Add soda.
Garnish with a fresh strawberry and a stemmed cherry.
Serve.
Drink responsibly, and never drink and drive