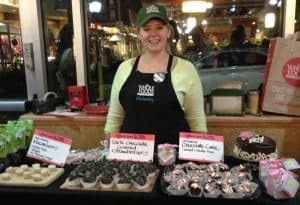 I already love Whole Foods Market and I love chocolate.  So, you put those two together and I am a happy mama.    Last week I went to Whole Foods Market in Glastonbury for a blogger event.  They put out a spread of desserts and some savories for us to sample as we chatted about blog stats and posts.  They were showcasing their chocolates and Valentine's Day offerings.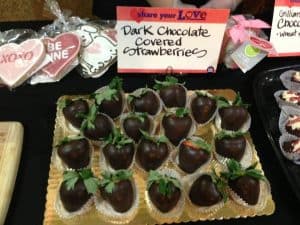 The main thing I love about Whole Foods is that they always have options for people with different diets.  I do not eat meat, dairy or eggs and they had gorgeous dark chocolate covered strawberries and samples of vegan candies and chocolates.  They also had a gluten-free chocolate cake.  For the omnivores, as my son calls himself, they had a mashed sweet potato topped with panko crusted shrimp and a maple/chocolate coated bacon.
Whole Foods is more than a grocery store.  They always have a great selection of books, fitness videos, clothes, candles and gifts for all ages.  For Valentine's Day they have stuffed animals, candles, bath salts, cards, chocolates and more!  They even have great Valentine themed napkins.  As I write this post I realize I should have taken pictures of their amazing floral department.  The staff there are so knowledgeable and helpful.  You can run in last minute, pick up some flowers, chocolates and a prepared meal to make the perfect Valentine's date.  Or better yet, send your loved one in with a list and let them bring it all home!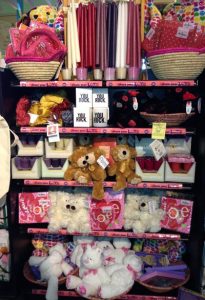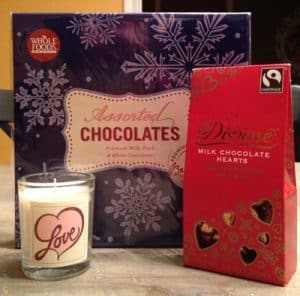 I took a picture of just one of the end caps filled with gifts ideas.  They also sent me home with a fun swag bag that had some chocolates and an awesome soy candle in it.
Do you have a Whole Foods Market near you?  What is your favorite department?