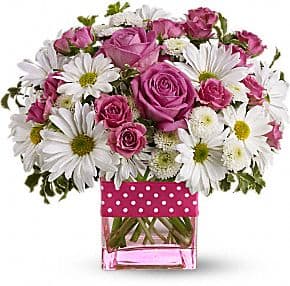 It's January 31.  5 days before THE BIG GAME, and 14 days before what has become one of the most hyped-up holidays: Valentine's Day.  I have to be honest here, I'm not big on this holiday.  Don't get my wrong, I love expressing my love for my husband and my children, but this is one of the top 2 holidays for me (second only to New Year's Eve) that always has such astronomically high expectations and…well, I don't know that I've ever known anyone who's expectations for those days were met.  PLUS, I love chocolate.
Around my house, Valentine's Day usually includes a lot of heart shaped foods to eat, and notes tucked into lunch bags and workbags.  A cute email? Absolutely.  A card? Maybe.  Hershey kisses?  Yes, pleaseandthankyouverymuch.  Flowers?  Hard to say no to those.  But gifts? I don't know.
It isn't that I don't LIKE presents and flowers.  I do.  I really love pink things, and sparkly things.  Or sparkly pink things.  Or pink flowers.  I'm generally happy to receive anything from the  "gifts for her " category, in fact.    I think I just kind of prefer to focus on the how and why of the Valentine message and not the gift itself.  Or I'm getting older.  Or I'm too lazy to shop.  Maybe it isn't just one thing.  I love presents, but not so much on Valentine's Day.  I think we've let it snowball into this big huge thing, when really it should be a day to share and express love and friendship to those around us.  Let's save the presents for another day.  Or for any other day.  Like a present for no reason at all!
Maybe I'm just too cheap to spend big money on this holiday.
Now, when it comes to May and September?  Sign me up for birthday gifts and anniversary gifts!!
What are your thoughts about Valentine's Day?
This post is brought to you by our friends at Interflora.uk.  Opinions are my own.