So my daughter has been eyeing a little pink cosmetic bag that arrived a few weeks ago that's been in my closet.  She's also been uber-inquisitive when I've had my period lately, noticing I'm in the bathroom more frequently, products more noticeable, etc.  As part of the Kotex Ambassador program, we received these little bags with some emergency essentials, and as I have been putting this post off because I knew we'd have a CONVERSATION, but today, it just happened.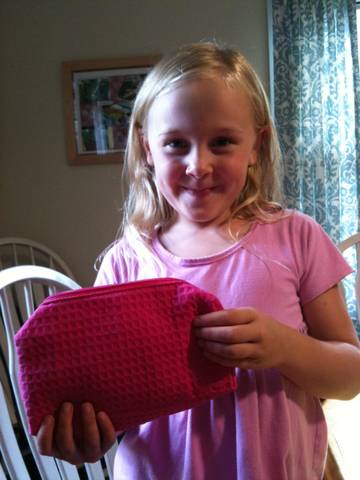 Mom, what's the bag for? Is it for me?  Can I see?
Well, um…its sort of for you.  But for when you are older.
MOM. I JUST turned 7. I'm totally older.  PS can I have it now?
Uh…sure.  Here you go.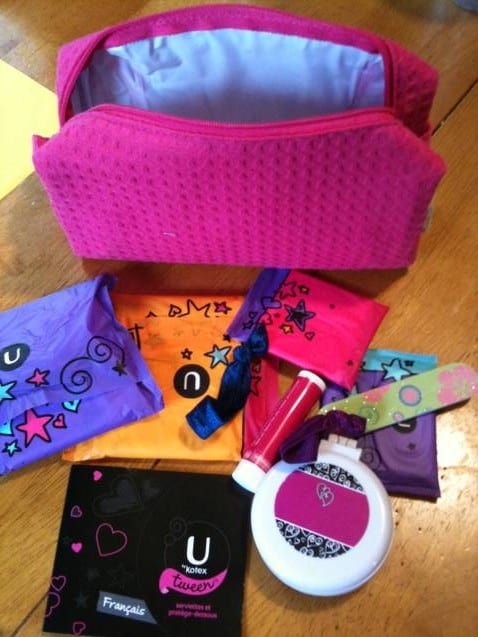 What IS this?  Ohhhhhhhh is the chapstick pink?  Can I have it mom?  Please?
(Waving U by Kotex pads around) Are these stickers?  Notepads?  Can I have them? I want blue, and purple!
This is it.  Oh crap. Yes, you can have them, but you probably won't need to use them for a really long time. They are pads, and liners.  They go on your underwear.
Like a diaper?
Well, not really.  When you are older, and when your sister is older, women's bodies have cycles that happen each month, and at the end of the cycle, you have blood.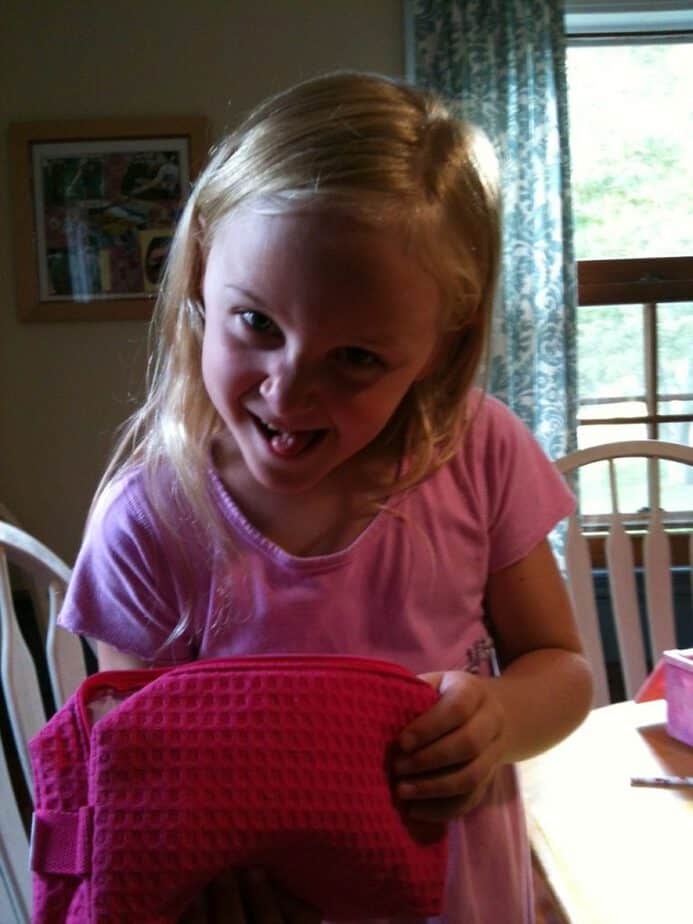 THE BLOOD? (eyes are huge)
Yes, the blood.  Although most people call it their period.  It doesn't hurt.  And we can talk more about it when the time gets closer.  But this bag, it' something they sent to us, with some supplies for you to keep on hand, for just in case.  Sometimes your period can kind of sneak up on you, and it's always good to have a pad or a liner in your bag, for just in case.
OK.  Am I going to be grouchy when I get the blood- I mean the periods- like you?  Because you are super grouchy sometimes.
Ummmmmmmmmmmmmmm…maybe.  You never know.
Can I have the chapstick now?  It's pink.  And I have a nail can I use the nailfile?
That's it folks.  Nothing earth shattering to report here.  All that worry and buildup for nothing.  Sigh.
About an hour later she came up and patted my back.  Thanks for the emergency bag, mom.  I like it.  You did a great job today.
Granted, she's only 7.  But at least we've broken the ice.  Although I guess we've started breaking it before today. We'll talk more when she's got more questions.  I think we're good.  We've tucked the bag in a special place in her closet for safekeeping, until we think it's a good idea to keep in her backpack.
I think the next time we broach this topic, we'll maybe do it on a mother-daughter date, when it's just the two of us and we can have some time to talk.  Even if it's at a mall shopping date, she can ask questions and I can answer.  Bonding moments can happen when you least expect them to- I wasn't expecting to have a "talk" today but honestly? I'm glad we did.
What are your mother-daughter bonding activities?  Do you take those times and use them to have important conversations?  Do you go with the flow?  
I wrote this review while participating in a Brand Ambassador Campaign by Mom Central Consulting on behalf of U by Kotex Tween and received products to facilitate my post and a promotional item to thank me for taking the time to participate.