Welch's 100% Grape Juice made with Concord grapes is like the grape juice I used to drink when I was little, and brought me right back to the backyard of the house I grew up in…we had Concord grapevines and we used to make jelly with my mom every year.  It tastes just like I remember it, with the distinct Welch's dark purple color and the sweet taste of the juice.  To no surprise of mine the kids loved it instantly!!  We even used some of it in place of sugar syrup for some sno cones we made- delicious!! I will definitely be buying this again, we always try to buy 100% juice and Welch's is just one of "the" best brands for fruit products.
In honor of the "Paint it Purple" tour, and this being a family friendly blog, for a purple project we decided that we'd make a family "tree" except for my family, that's not really possible.  Too many blended families along the way- so we decided that the best thing to do in honor of Welch's Concord grapes and paint…we should make a Family Grapevine!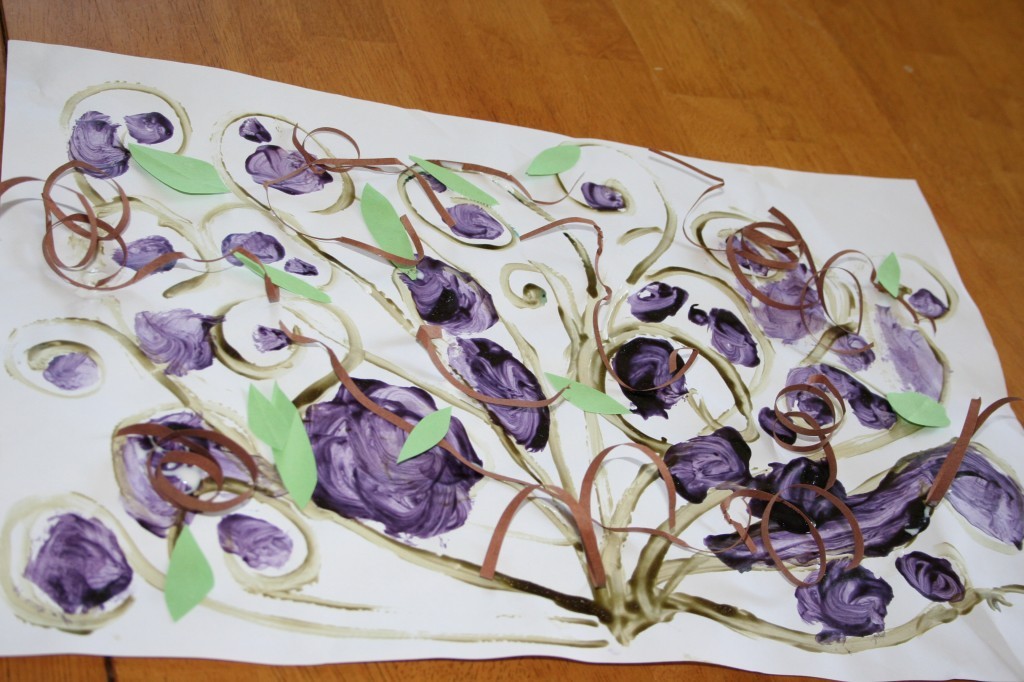 Our names are on the finished product but we decided we'd show you the photo just before adding the names.  (I don't share my children's real names, and I don't know that any of my siblings (7 in all) would want their children's names so we left them out).  We put names on the leaves so it would show up.  The kids and I had so much fun making this we may just frame our Family Vine!!
Diet and exercise affect your heart but so do your genes. That's why it's important to understand your family's heart health history. Welch's is helping spreading heart healthy awareness with its Welch's Family Vine Tool, which enables families to trace their personal health histories and share the results among relatives. This is something I really wish I could do, but due to circumstances beyond my control, I don't have a full medical history for either side of my family.  My oldest has kidney reflux and has been on preventative antibiotics since she was 10 months old.  She's been very lucky and not had a bunch of  UTI's over the years, but being on antibiotics long term, no matter how low the dose, means a weakened immune system.  If I can boost our immune symptoms by eating the right foods, then those are the foods I try to keep in the house and offer to my family!
The Grape Science Center is a valuable resource to learn about the growing Concord grape research in areas like heart health, cognitive health, immune system health and more.
In addition to promoting heart healthfulness, Welch's has prepared recipes and other tips for creating tasty meals and snacks with vibrantly colored fruit. Find these and more at the Welch's Recipe Box.  I think we may make this Grape Juice Punch for Easter with the cousins- purple is a fun Easter color and the kids will love it!
Ingredients

2 cans (11.5 oz.) frozen concentrated lemonade, thawed and undiluted
2 cans (11.5 oz.) Welch's concentrated frozen Concord Grape Juice, thawed and undiluted
2 quarts Ginger Ale, chilled
Lemon and orange slices

Preparation

Mix lemonade and grape juice with water, as directed on cans. Keep chilled until ready to serve.
Pour into punch bowl; add ginger ale and ice. Garnish with lemon and orange slices or Lemon Ice Mold. Serves: 25 to 28.
Welch's on Twitter
Welch's on Facebook
"I wrote this review while participating in a blog tour by Mom Central Consulting on behalf of Welch's and received a product sample to facilitate my review and a gift code to thank me for taking the time to participate."