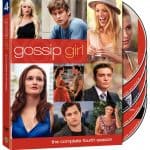 Too busy for a summer vacation? Join Serena and Blair in Paris with Season 4 of Gossip Girl!
Summer vacations are always a blast. In Season 4, ep. 1 Belles de Jour, Serena and Blair enjoy their summer vacation in Paris trying to take their minds off of home. When Serena and Blair take this lavish trip to Paris, they experience the food, culture, fashion, and even romance! Blair meets a French royal that wants to sweep her off her feet, gets into a major spat with Serena, and even bumps into her ex, Chuck.

What's YOUR dream vacation?  I know so many friends who have been swept off their feet by hopeless romantics and flown to Paris- one friend was proposed to there…such a romantic city, so much history and culture, its easy to see why its a dream vacation spot for so many.  Plus, the food, the fashion, the designers- ohh, la la!! 

Many moons ago my dream vacation would probably have been exactly what Season 4 was for Blair and Serena, sans the drama. Of course, that would have been a dream.  But oh, I can tell you I spent enough hours mooning over soap opera storylines to know that I would have looooooooooooved being in Paris, the city of love, being wooed.
Now, of course, my dream vacation is a little different.  I want to sleep, until I wake up, and have nice weather, so we can get up and do things and not be limited by weather- I want to not clean up or prep for any meals nor make beds, change beds, etc.  You will notice I'm not even naming a specific location- really, I can't.  Why not?  Because, simply, I don't know that it matters where.  A pretty place that's comfortable and I can kick back and chill or be super active, and get some rest.  A break from the daily grind. 
If my youngest was a bit older, my dream vacation would be 10 days in Disney World.  But she's not.  So that's not it.  Ask me next year!!
"I have been hired by Warner Bros. WBWord division to promote Gossip Girl Season Four on DVD."
0