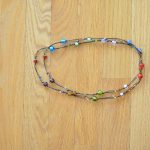 I recently asked my father in law what he would like for Christmas. His answer: World Peace. Hmmmmmmmm. Not an easy request to fulfill, but I think I have found something that will definitely warm his heart.
World Vision Gifts.
This is a wonderful organization that provides support to families and children in need.
"85% of all donations goes to programs helping children and families overcome poverty in nearly 100 countries."
How does it work?
Make a monetary
donation
to the Maximum Impact Fund and receive a free gift in return. They have some great gift options, such as: necklaces, bracelets, ornaments and plush toys. You can also choose to give a sustainable gift such as a chicken or goat to a family in need (in the name of a relative, friend or coworker). This is a such a great way to help those in need and get a great gift for a loved one this holiday season. They provide a printable gift card as well. Check out this video to see how it works.
I was really excited to try out the beautiful Artisan Beaded Necklace from their catalogue. It instantly caught my eye.
Artisan Beaded Necklace: This glass-bead necklace was handmade in Thailand and can be worn several different ways — even as a multi-stranded bracelet.
Wow is this necklace beautiful! It comes as a long strand necklace which can be doubled up and worn as a necklace or twisted up several times and worn as a bracelet. I had been looking for a funky layering bracelet for a while and this one is perfect! All of the colors in the beads are beautiful and the craftsmanship is wonderful. I get compliments every time I wear it. I feel so good when I wear this bracelet, knowing that in my small way I am spreading the word about this wonderful organization. I can't wait to look through the catalogue and pick the perfect gift items for the people on my Christmas list.
"Please consider one of the unique and life-changing items from World Vision's Gift Catalog this holiday season. The beauty of these items is the two-for-one benefit they provide: 1) a meaningful and affordable gift for a loved one; 2) proceeds that make a difference in the lives of children and families living in poverty in the U.S. and around the world.With a financial contribution, the gift giver selects one of 36 items that can be given to someone on a holiday gift list and at the same time help a person in need.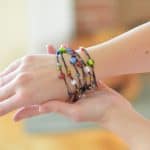 visit www.worldvisiongifts.org."
You can also visit "The True Spirit of Christmas Tour" Facebook page at
www.facebook.com/truespiritofchristmas
. For the third consecutive year, World Vision staff will be traveling across the world this December to see the impact that goats, sheep and other gifts have on families and children.
Thai Bracelet and Necklace:
This handcrafted Thai bracelet and necklace set was made in a project that helps protect vulnerable girls from exploitation.
One of our readers will win their own Artisan Beaded Necklace! (Provided availability. Specific item may be substituted if not currently available)
// You need javascript enabled to see this giveaway.
"I was provided a sample of this product to facilitate my review. All opinions expressed are my own."
0