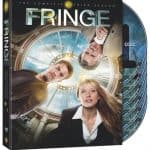 At the end of Fringe Season 3, Peter makes the decision to sacrifice himself thus altering the future. If you were given the opportunity to change the future, would you take matters into your own hands, or would you trust in fate?
I would not change the future, given the chance.  As much as I'd want to- I think things happen for a reason.  I feel like messing with fate is asking for trouble but that's my personal belief.  I do enjoy watching others mess with fate for my entertainment on television and the big screen, of course.  As much as I'd even like to go back and do some things differently in my life- I know that I'd not have learned the lessons I learned, nor gained the knowledge or experience I have now- and were things different, I would not have the life I have now.  I can't imagine not having my husband nor all three of my children- I can't imagine going back and changing anything about the past.  Although I could totally make an exception for that awful asymmetrical haircut I sported in sixth grade.  Yuck-o.
Order Fringe: The Complete Third Season on DVD here today: http://bit.ly/o2MYBv !
 "I have been hired by Warner Bros. WBWord division to promote Fringe: The Complete Third Season on DVD/Blu-Ray."
0