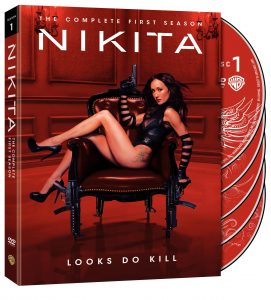 On Nikita, "The Division" recruits troubled youth, erase their background and shapes them into spies and assassins. If given the chance, would you neglect your current life for one of globe trotting spy work if it meant you would have to cut all ties with everyone in your life?
I can tell you without certainty that I would not be able to cut all ties with everyone in my life. No way. My family means far too much to me as do my friends, and I cannot imagine life without them in it. While the spy world seems hip and cool, it is definitely not for me- but I do love to watch the spy world on TV and the big screen!
I think the sacrifices that spies make is part of the draw to why people love to watch spy stories so much- they give so much of their lives away- permanently- its so hard to imagine doing ourselves, so we watch fascinated as others do it.  I'm not quite sure that most of the people you'd meet in the real world of spies would look much like their counterparts on the screen either!!
Pre-Order Nikita Season 1 on DVD from Warner Brothers and enjoy a whole season of spy drama in your own home!
"I have been hired by Warner Bros. WBWord division to promote Nikita Season 1 on DVD." http://bit.ly/qLjOxO
0