One of my favorite things about October is that it starts to bring Christmas around. Not like full out Christmas, but I love the hints and glimmers of the holidays that pop up. I do. Don't get me wrong, we are in full Halloween mode over here, but there's just something so fun about seeing the Hallmark Christmas movie lists, seeing what new holiday books that Hallmark Publishing is releasing…it's just fun. It reminds me of what's to come, and especially after a year and a half of dealing with covid and all that comes with it emotionally – little bits of brightness seem to shine just a little bit more than normal. I LOVE Christmas anyway, but Hallmark's stories just hit you right in the feels. It's family friendly, feel good stories told with a holiday backdrop. I'm here for it. Last year, I indulged in my first Hallmark Christmas books…and now I'm excited to partner with Hallmart Publishing again to introduce you to this year's new books, all available in Paperback, e-book, and Audiobook. This year's lineup include: On Christmas Avenue (9.21), Mistletoe in Juneau (10.19), Wrapped Up in Christmas Hope (10.26), and Christmas in Evergreen: Bells are Ringing (11.2)!
"Wrapped Up in Christmas Hope"out Oct. 26th from Hallmark Publishing

When you pick up a book from Hallmark Publishing, you know before you open it that there's probably going to be a happy ending. After all, that's kind of Hallmark's thing…but in between turning the page to begin (or pressing play to listen), there's a whole world of wonderful characters nestled into some kind of community, with ups and downs and maybe even some really challenging obstacles to overcome- before that happy ending comes. That's where you get drawn in- when you meet the people in the stories. In Wrapped Up in Christmas Hope, we meet Andrew, a self-proclaimed lifelong bachelor firefighter who's really considering leaving his hometown, friends and family behind to head out across the country to fight wildfires. But then this widowed single mom named Morgan moves to his small town, and he meets her and her Christmas tree green eyes at her son's Kindergarten classroom, and then her son …and suddenly, his long term plans seem to be a bit undecided. Morgan and Andrew cross paths a lot while sewing for the Quilts for Valor Foundation, and with each stitch, it seems, they draw closer to one another. It's a sweet story, and will leave you with a smile!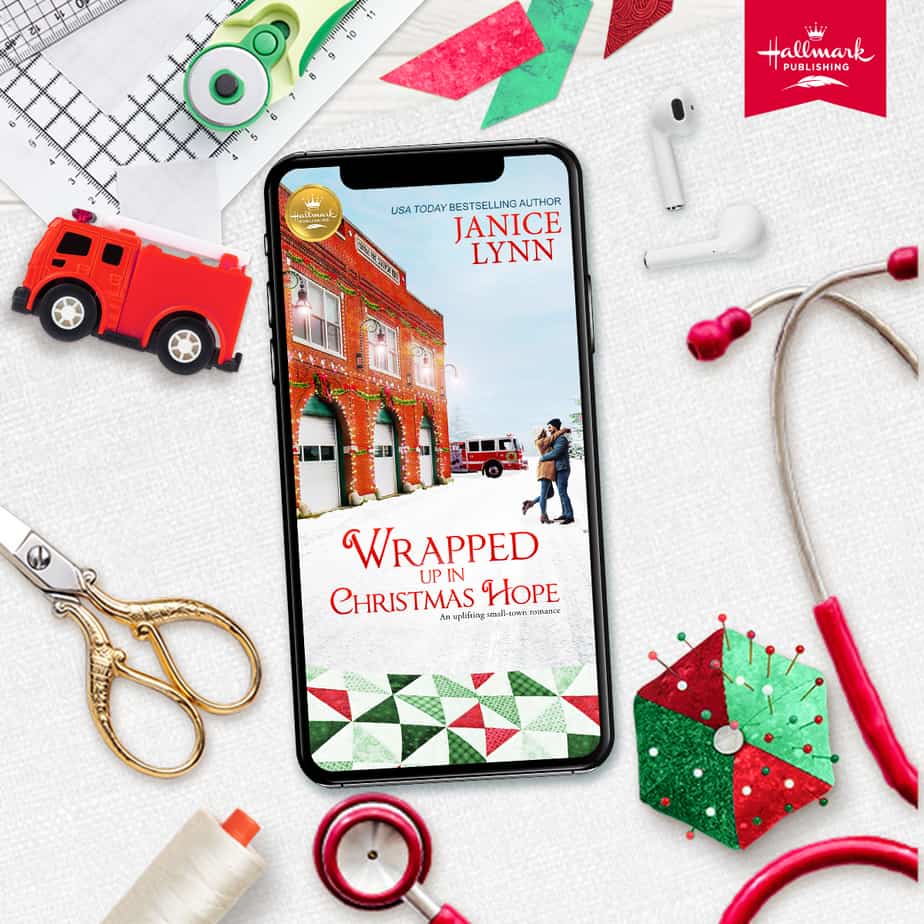 "Wrapped Up in Christmas Hope" by Janice Lynn:

Morgan's late husband was a daredevil…and now she's a widowed single mom. All she wants now is to set up a stable life for herself and her son in the small town of Pine Hill, Kentucky.

Andrew's a firefighter who thrives on the rush of saving others. His secret dream is to become a smokejumper and fight raging wildfires across the country. But it'll mean leaving his hometown and the people who rely on him.

Morgan and Andrew are drawn together as they both volunteer to make quilts for veterans at the local quilt shop. Morgan's son looks up to Andrew, and Morgan can't help but notice how good Andrew is with him. Meanwhile, Andrew's torn between his ambition and his growing attraction to Morgan. They both have choices to make about their future…and about each other.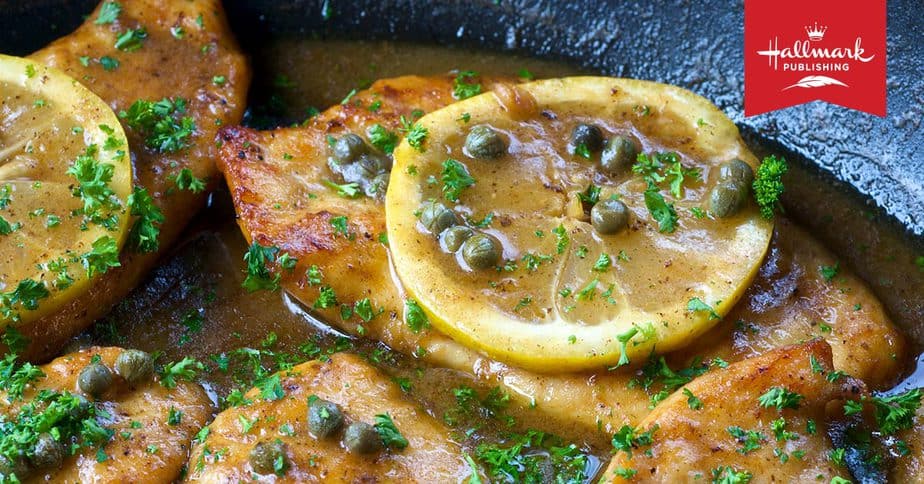 Loving the story? Try this delish Lemon Chicken Scaloppini recipe to keep the magic going…
Lemon Chicken Scaloppini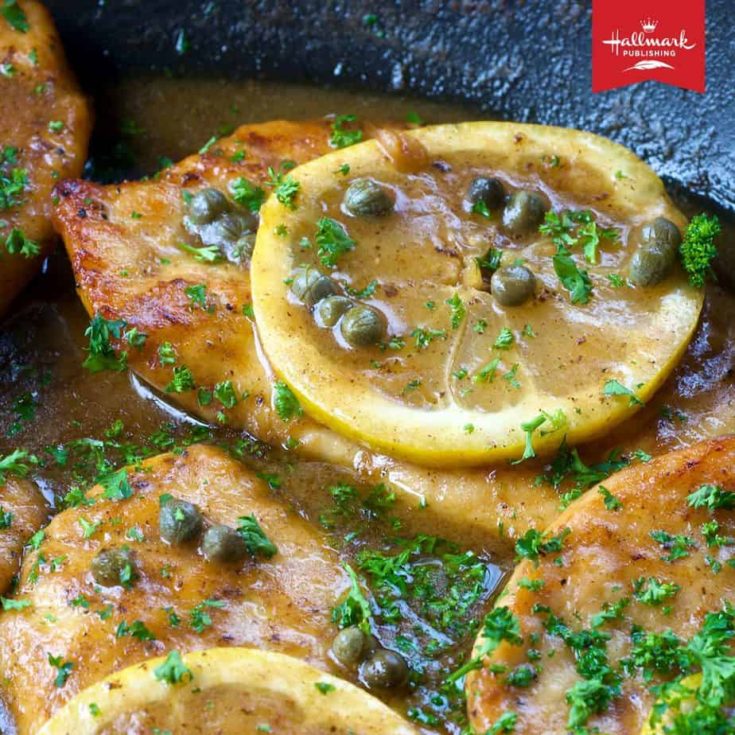 Yield:

6
Lemon Chicken Scaloppini
This succulent chicken dish is a big winner…and anyone you serve it to will be just as impressed with the lemony flavors paired with capers and some white wine in the sauce.
Ingredients
4 boneless, skinless chicken breasts
1 cup flour
1 tablespoon salt
½ cup butter
¼ cup olive oil
¼ cup white wine
1 cup chicken broth
2 tablespoons capers, drained
1 lemon, sliced very thin
Salt and pepper to taste
½ cup parsley, finely chopped
Instructions
Place chicken breasts on cutting board and slice in half horizontally, forming 8 thin filets
Place each chicken filet between two pieces of plastic wrap and pound until ¼inch thin.
Combine flour and salt in shallow container. Dredge pounded chicken in seasoned flour; shake off excess flour.
Heat butter and oil in large skillet. Working in several small batches, sauté chicken for 5 minutes over medium heat, turning once.
Add white wine and chicken broth. Simmer until the liquid is reduced by half.
Add lemon pieces and capers.
Season to taste; garnish with parsley.



About Author Janice Lynn:

Author Janice Lynn loves to spin a tale that puts a smile on her reader's lips and a tear in their eye as they travel along her characters' journey to happy ever after. Her favorite read is one with a strong heroine who is able to laugh at herself and a hero who appreciates the heroine's strengths and imperfections.

Janice's books have won numerous awards including the National Readers' Choice Award and the American Title, but she is most proud of her seven children. From actor, engineer, nurse, student, to Army National Guard, they are her greatest accomplishments.

Janice lives in Tennessee with her family, her vivid imagination, lots of crafting and quilting supplies, and numerous unnamed dust bunnies.


About Hallmark Publishing:


Now, you have even more ways to relax and indulge in a Hallmark story. The kinds of heartwarming romances and intriguing mysteries you love are now available as books! In addition to companion novels to beloved Hallmark movies, you'll discover brand-new novels to brighten your day and leave you feeling good about life. With the same attention to storytelling that goes into every Hallmark movie, we'll bring you new characters, relationships, romances, and intriguing mysteries. And each book includes an original recipe inspired by the story!


GIVEAWAY:

(1) One winner will receive a copy of Mistletoe in Juneau + $25 Visa Gift Card + (1) Hallmark Channel Wine Gift Card