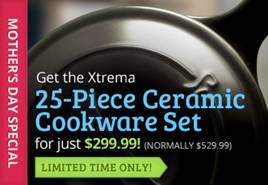 Xtrema Ceramic Cookware is having a Limited Time Group Buy promotion! You can save $230 off the regular retail price of their 25-piece Ceramic Cookware set and get free shipping! This full set is available at this great price only until 5/15!  We have the 10.5 inch skillet and LOVE it!
Why ceramic cookware,
-Xtremely Easy to Clean: Non-stick, PFOA Free, non-toxic, thermoplastic cooking surface makes clean-up extremely fast.
-Xtremely Attractive: High-gloss black ceramic finish looks fantastic.
-Xtremely Versatile: Oven, stovetop, freezer, barbeque grill, microwave oven, dishwasher and dining room table.
-Xtremely Healthy Cooking: No trace metals leaching from the cooking surface.
-Xtremely Practical: Retains heat longer so foods stay hotter longer.
-Xtremely Tasty: Ceramic far infrared cooking enhances the food flavor and the entire cooking experience.
-Xtremely Durable: Outside surface can not be scratched during cleaning.
For this group deal to purchase the 25 piece cookware set: 
Promotion is for $299
Regular Retail is $530
–  Group Special:
If 22 people commit to buy this set, they save $230 dollars from the normal cookware selling price.

0